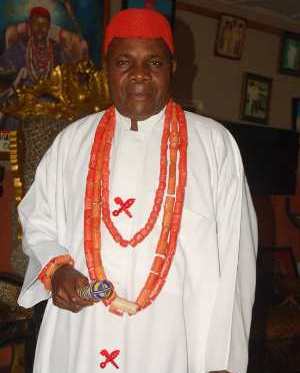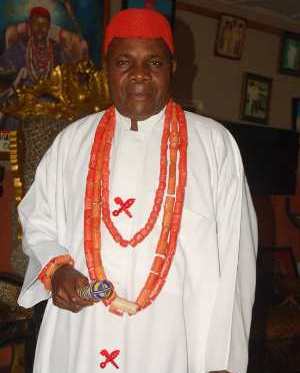 In commemoration of his 25th year anniversary as a traditional ruler, HRM, Dr. Ezeagwu Ezenwali 1 FHNR (JP), the Obi of Umunede has in a chat with Ika Weekly Newspaper, stated that his reign can be best described as 25 years of monumental development, peace and happiness.
He disclosed this at his palace during the week leading to the commencement of activities marking the 5day celebration. Below is the biography of HRM and excerpt of the exclusive interview granted Ika Weekly Newspaper.
Biography
His Royal Majesty Agadagidi Ezeagwu Ezenwali 1, (JP) was crowned the  17th Obi of Umunede kingdom in Ika North-East Local Government Area of Delta State in 1993, the day his father HRM, Obi Nwachukwu Gbenoba 11joined his ancestors. His reign began when he was about 40years old.
The monarch who is a current member of the Delta State Traditional Rulers Council, is the 17th Obi of Umunede from the line of succession of Ede, (a Benin prince), the founder and the 1st Obi of the kingdom. He was variously educated at the Lubo Comprehensive High School, Ijebu-ode in Ogun State, Ede Grammar School Umunede, Ika Grammar School Agbor, and Bauchi State School of Arts and Science.
Agadagidi, a highly respected monarch is an astute Administrator, a good manager of human and material resources with a sound knowledge of customs and traditions of his Umunede kingdom and Anioma nation at large. No wonder  he is continually bestowed with various honours and awards. He is a fellow of Human and Natural Resources (FHNR), Honorary Doctorate Degree in Communication Arts and Public Administration. He was bestowed with a Merit Award as a respected monarch by Edo legacy Foundation; Golden Award of Excellence by the Journal News Magazine; Community Leader Award by Onu-Ika Nigeria; Merit Award by Umunede Youths Association. He was also honored by the Command Secondary School, Mbiri, National Waves Organization with Community Developer Award and Diocese of Ika Church of Nigeria (Anglican Communion) amongst others.
Dr. Ezeagwu Ezenwali I, who is a Justice of Peace (JP), is a man of amiable personality; of an open social disposition and cosmopolitan character. He speaks all the three major Nigerian languages of Ibo, Yourba, and Hasua and is married to two wives. Her Royal Higness Queen Anthonia Obiageli Ezeagwu, the lssor of Umunede kingdom and Her Royal Highness Queen Florence Ezeagwu the Ogezeh of Umunede kingdom and they are blessed with children.
Excerpt below;
Since you ascended the throne 25years ago, how has the journey been so far?
Since I took over the mantle of leadership from my late father, there has been tremendous development in so many areas, of which the most important is the peace and tranquillity being experienced within the kingdom and beyond today. A lot of projects have been executed, starting with the Agadagidi Civic Center. In my father's time, Umunude could only boast of a Police post, but today, the post has been transformed into a divisional Police Headquarters, it is no longer a Police post. The town has witnessed the emergence of an Area Customary Court which was before now a District Customary Court 2. Under my watch, Umunede now has Magistrate Court 1&2; we also have a High Court today. On my Part, I have been recognised by the State Government, I am a member of Delta State Traditional Rulers Council. We have various kingdoms manned by traditional rulers, but not all of them are members of Delta State Traditional Rulers Council.   But today, I give thanks to God that I am privileged to be a member of the Council.
Administratively, for the first time in History, Umunede has come to key into the mainstream of the Government of Delta State and Nigeria. Previous administrations have always been in opposition. I have been able to unite the people to speak with one voice, and now we are in the mainstream of Politics of the present day. Also, the Member representing Ika North East at the Delta State House of Assembly, Hon. Anthony Elekeokwuri happens to be my son. This would not have been possible if Umunede was not united. In addition to that, it is the fact that Umunede has witnessed many political appointments given to her sons and daughters. To this effect, we remain grateful to his Excellency, Sen. Dr. Ifeanyi Okowa for the massive recognition and participation of Umunede people in the present day government.
Furthermore, there is a massive structure (Obi's residential building) ready to be unveiled in the palace. I led my subjects to bring about this massive structure which will be used to commemorate my 25th year reign on the throne of Umunede Kingdom. The funds were generated internally. Umunede Progressive Union (UPU) headed by the President General, Mr. Tony Ngozi created a website which Umunede people, both home and in Diaspora keyed into to donate finically towards the project.
The project began 5years ago during the 20th coronation anniversary; it will be unveiled as a completed project during this 25th coronation anniversary. Though Umunede people have always been speaking with one voice, yet the level of cooporation, togetherness and unity this period has been unprecedented, it has reached its crescendo. Everyone is happy, I am very happy with my people, both home and in Diaspora. Umunede is one now.
What is your relationship with other traditional rulers and the state Government?
I am a member of the Delta State Traditional Rulers Council due to my cordial relationship with other monarchs. I have been on my toe, relating with Government officials. My relationship with other monarchs is excellent, I happen to be a good mixer, from the 3 Senatorial Districts, I love and they love me. Seas of heads of Traditional Rulers are expected on the grand finale of the celebration, their presence will attest to the fact that we are cordial.
What has inspired you through the years?
On ascending the throne, I recognised that Umunede is the largest electoral Ward (11) in the federation, with a population of over forty five thousand persons. I felt there was no reason for Umunede to be neglected, considering the position as one of the first places to be recognised by the colonial masters. I wondered what was holding the town or why they were not remembered by the government or why it didn't live up to the developmental strides like other communities. I then discovered that politics is about "who gets what, when and how". One cannot reap where one did not sow; we discovered from the first republic that very unfortunately, we had always been in opposition. Under Western region, we were in opposition, in mid western region, it was short-lived, during the NPN time in 1977, we were also in opposition, and not much was coming to us politically. That was why I galvanized Umunede people to say "enough was enough".
We decided to look inward, and since then, things have changed. I am eager to match the pace of other developing communities. I meet the people not where they should be, so I am inspired by my drive to take the people to where they ought to be by moving forward. My inspiration is drawn from the support and corporation my subjects accord me, I am supported in whatever I do, hence I am not doing things alone, I have the support of my subjects.
What legacies and achievements will you like to be remembered for?
First and foremost, I have left a structure for peace in Umunede. When there is peace, much can be achieved. Secondly, arising from the relative peace enjoyed by all, in the Royal Court, justice is dispensed.  Once there is a just ruler, the people rejoice. The people see me as a just ruler, and that is a very big legacy for me. I have projects and structures I will be remembered for. Umunede people who have never been to Umunede have started indicating interest to come home to find a place in the development of the kingdom by writing their names in the annals of history through financial supports, ideas and what have you in this celebration. It is carnival.
What are the most challenging moments through these 25 years?
Umunede like we know is cosmopolitan. All tribes in Nigerian are largely represented in Umunede. Hence, there is likelihood of cultural conflicts. But I have been able to work out a synergy with all these cultural groups. I have periodic audience with leaders of these diverse cultures and tribes to ensure there is no conflict.
Again, with the increase in cultism everywhere in Nigeria, Ika land particularly, I have been able to assemble a security outfit working in synergy with the Police and other security operatives to ensure that the social vice is nipped in the bud.
The State Government led by Dr. Emmanuel Uduaghan as governor , as pronounced by the deputy Governor then, Prof. Amos Utuama recognised Umunede as one of the most peaceful communities in Delta State, hence I am very cautious to maintain that recognition so as to see that the trust reposed in Umunede is not misplaced.
Another challenge is the case of human trafficking/sojourn of our youths to unknown places where they experience hardship. I have been talking to my subjects, enlightening them on why they should bring up their children here, rather than sell their properties or valuables to sponsor them to unknown destinations like Libya where most of them perish, both male and female.
Due to the complex nature of man, they are sometimes difficult to deal with. Hence, challenges should be expected, though I have been able to galvanize the people to live as a family, including other ethnic nationalities amongst us.
What does this 25th Coronation Anniversary signify for Umunede kingdom?
We rejoice over 25years of peaceful reign and the monumental developmental strides. It is worth celebrating.  Our celebration begins with a thanksgiving service to thank God for 25years of steady progress and peace, it is indeed worth celebrating. Within these 25years, a lot of Umunede people have risen through the ranks in their various fields of endeavours. All these are reasons to celebrate and give thanks to God and also to pray to him to up lift us more than He has done.
What are the programs of activities lined up during the celebration proper?
The celebration begins with an inter-Denominational Open Air Service at the Palace ground on Wednesday 24th October, followed by paying on homage by the Four villages and chiefs in Council on the 25th, preceded by paying of homage by the various ethnic nationalities and non indigenes and Anniversary lecture at Agadagidi Civic Center by 10am on the 26th, followed by the grand finale/unveiling of the Royal House on Saturday 27th October at the palace ground. And finally, a thanksgiving Mass at Immaculate Heart Catholic Church, Umunede by 9:30am on Sunday 28th October, 2018.
What are your expectations during this celebration?
There is a scripture that says, "Man proposes, but God disposes". So we pray first and foremost for the presence of God all through the celebration. Umunede people are expected to massively troop out for the celebration. As a matter of fact, so many persons who have never been to Umunede have all called to signify their interest in attending the event. Calls have continued coming in from our sons and daughters in Diaspora who have indicated that they will come for the celebration.
Again, we thank the Umunede Progressive union, (UPU) for the website they created with which they reached out to our people.
What are your words for your people during this period?
As a father, I am encouraged by the support and corporation my children have given me. I solicit for more corporations from them, so that community will move forward in terms of development and peaceful coexistence, so we can be identified with other communities in Nigeria. I also solicit for the peoples contribution, be it financial or moral contributions for the positive development of the people. I will continue galvanizing them, so that we can all move forward.
As 2019 election approaches, what are your words to the people?
By nature, I am a father to all, and I am apolitical. I do not pitch tenth with any political party. So I say to my people, speak with one voice. I am not against anyone with political ambition. I urge my people to be wise and look well before they act. In the past, opposition did not favour us. I encourage everyone to have their PVC. They have their conscience, so they should vote a candidate of their choice, but before doing that, I advise them to think well and ask themselves where they can have dividends of democracy.
What are some of the projects of the present state Government in Umunede?
One of them is the ring road still under construction; a part of it has been completed, so we use this medium to appeal for the completion. Umunede/Umutu road is under construction, we are happy about it. There is massive renovation and equipping of the two public Secondary Schools and all the Primary Schools with state of the art materials. The General Hospital has been renovated very recently; a Sickle Cell Center has been opened at the Hospital. We appreciate the Government for that development. The Health Center has been rehabilitated and equipped. The road around Ede grammar school has been tarred, we appeal to the government to link the road fully to the old Mbiri road. One cannot rise above his/her level of education, it is our belief that with these developments, Umunede will rise higher.
These developments are not out of place because a large community like Umunede should have more than two public secondary schools, so we call on the government to reason in that regard of creating more.
In addition, a multi -purpose rest park has been approved for Umunede with land already allocated. We await the state government to kick start the project. In addition, our sons and daughters are benefitting from the state Governments, YAGEP and STEP programs.
Your final words to the people
I appeal to them to continue rallying round me, so that together, we can strengthen our ties and move the kingdom to higher heights.