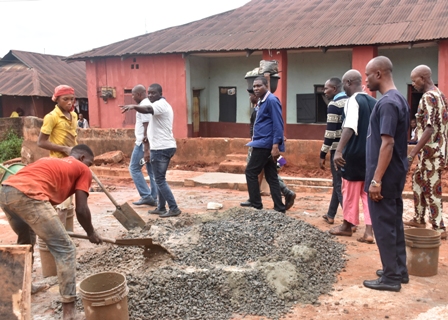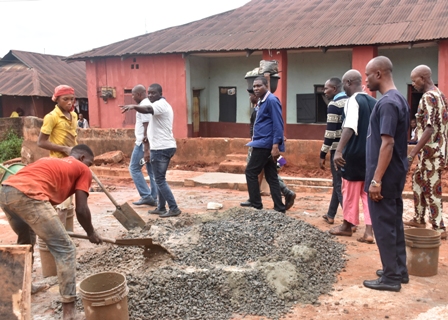 The Executive Chairman, Ika South Local Government Area, Hon. Barr. Victor Okoh in a bid to ensure  that roads under construction in the local government are done to specification, on Monday 18th June 2018 embarked on inspection of some of the roads and drainage under construction.
The inspection which took him and his team round Queen Street, Oseji Street and other adjoining streets and drainage under construction was carried out with the aim to ascertain the level of work thus far, identifying problematic areas impeding the completion of the project and ensuring that jobs are done to specification.
Speaking to members of the Landlord/Landladies Association of Queen Street, the council chairman charged them to endeavour to maintain the road to ensure its longevity.
In his words, "construction of roads is not a daily occurrence. Since the state government has embarked on tarring these other roads in the local government, we must make efforts to protect them. What belongs to us belongs to us. As landlords and landladies, we should help in securing our roads, be on the lookout for those who dump refuse in drainage and report them to appropriate authorities. If these roads and drainage are destroyed because of the dumping of refuse in drainage, they will not be revisited for construction, so we must take advantage of His Excellency's kind gestures and ensure the longevity of the roads".
Identifying a portion of Queen Street by Gbenoba, where houses were built on the way thereby impeding construction, he appealed to occupants of the houses to make individual sacrifices for the good of everyone involved. He urged them to cooperate with the contractor handling the project, to enable them carry out their duties effectively to the benefit of residents in the long run.
In the same vein, he issued a strong warning to those who dump refuse in drainage, warning that anyone caught in the act will not be spared.
Speaking with Ika Weekly Newspaper reporter on behalf of the landlords, the Public Relations Officer of Queens streets Landlord and Landladies Association, Mr. Ralph Obi-Okoh, stated that they are grateful to the governor for approving the construction of the street. He revealed that the Landlords have resolved to cooperate with the contractors by allowing the demolition of identified structures standing on the way. They however appealed for minimum demolition, affirming the construction of road is a great opportunity.
Speaking further, Mr. Obi-Okoh said he appreciated the Ika South Council Chairman for taking time off his schedule to inspect the roads in order to see that work is carried out properly.