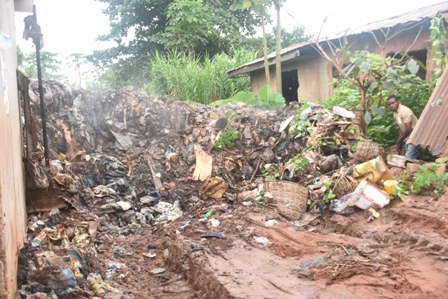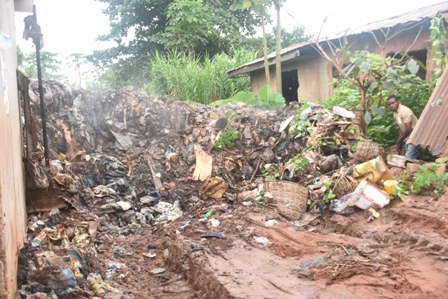 Traders at CTC Market, Agbor,Ika South Local Government have expressed their happiness over the evacuation of refuse in the market by the Chairman, Ika South Local Government Area.
The evacuation of the dirt which has been in the market for over a year and some months was carried out on Saturday, June 16, 2018.
Speaking to Ika Weekly Newspaper, some of the market women stated that the removal of heaps of refuse which blocked off a part of the market was long overdue.
They commended the Council Chairman for coming to their aid, especially in this season of rain.
Mrs. Cecilia, narrating her ordeal, said her store being closest to the refuse dump was avoided by buyers due to the offensive stench emitting from the refuse dump, adding that, that has been a major problem for market men and women in the market.
Mr. Francis Dumbiri, a civil servant from Ika South, who was present during the evacuation process, commended the council boss for not only clearing the dump but also visiting the market to supervise the work to ensure it was done to specification.
Mr. Sunday Onabor, a staff of Ika South Works Department said he is appreciative to the Chairman for clearing the site, and approving the renovation and construction of structures in the market.
Mrs. Okuouchi said "I am thankful to the Chairman, the refuse dump has been a source of worry to us (traders), including those who live around here. We pray for more strength and wisdom upon him to lead us".
Another trader who identified herself as Mrs. Anthonia expressed her gratitude to Barr. Okoh and the entire Council, she however, called on the Chairman to ensure there is adequate security in the market to ensure that people living around the market do not continue using the market as a dump site as they have done in the past.
Barr. Okoh monitoring the evacuation, called on the traders and leaders of the market to be vigilant against those who dump refuse in the market indiscriminately. He called on the traders to register with approved private sector participants to evacuate the dirts generated by them.
Mrs. Grace Akunwa, a former food seller in the market while commending the council boss, urged him to enforce rules which will place stiff penalties on those who trade in open spaces outside rather than use provided spaces inside the market.