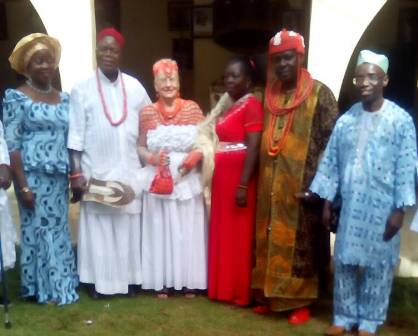 The Obi of Ejeme-Aniogor in Aniocha South Local Government Area of Delta State has honoured Professor John Alizor and his America-born wife with Chieftaincy titles. While the title of Ogbaji Igwe 1 of Ejeme-Aniogor was bestowed on Professor Alizor, his wife, Jean bagged the title of Odaze of Ejeme-Aniogor.
In a brief ceremony to mark the occasion recently in Ejeme-Aniogor, the Monarch, Obi Eweliku 1 (JP) described his gesture as his own little way of strengthening the relationship between Aniocha South and Ika North East on one hand and that of United State of America and Nigeria on the other.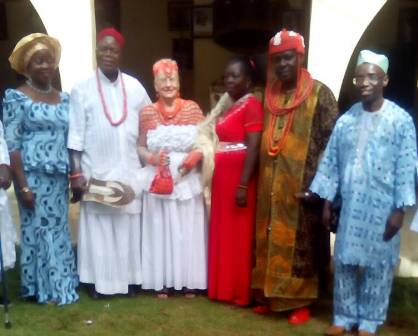 According to the Obi, "if the United States of America was hospitable and kind enough to accommodate our own son, John for close to fifty years, Nigeria and Nigerians can only show their appreciation for this gesture by ensuring that this couple, especially Jean lives a happy life in our country and community".
The Obi further urged Professor Alizor to use his verse knowledge and contacts as an American Professor to attract developments to Ejeme-Aniogor in particular and Delta State in general. He admonished the Nigerian youths who have penchant for travelling abroad to always think of acquiring relevant skills and returning to develop their fatherland. The revered monarch also called on the government of Delta State to tap into the experience of Chief Alizor by assigning him a duty that will be to the benefit of Deltans.
In his earlier address, Dr. Sam Idiaghe of Anioma Hospital Boji-Boji Owa thanked the Obi, for finding his friend, John worthy to be a chief in his Kingdom. According to Dr. Idiaghe, "there is no better way of explaining the meaning of the name of your Kingdom – Aniogor (home of hospitality) than what we have just witnessed".
Speaking on behalf of himself and his wife, Professor John Alizor promised to do all he can to assist Ejeme-Aniogor whenever the need arises.
The high points of the ceremony include prayer for the Ogbaji Igwe 1 and Odaze of Ejeme-Aniogor by the Monarch.