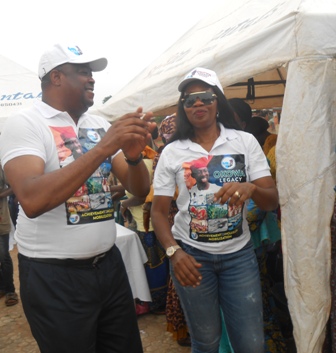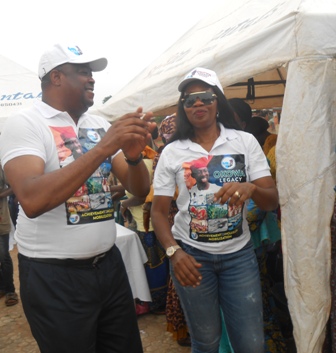 The Founder, Okowa Legacy Group (OLG), Dr. (Mrs.) Isioma Okobah has said that returning Okowa for a 2nd term is their mandate. She made this statement during the inauguration of the group at Onicha-Ugbo in Aniocha-North LGA of Delta on Saturday, March 31, 2018.
Speaking during the meeting, the Executive Assistant to the State Governor on E-Health and the Chairman, Delta State Primary Health Care, Dr. (Mrs.) Isioma Okobah, said the essence of the group is to use their medium to sensitize Deltans on the need to bring Gov. Okowa back to the State Government House come 2019 saying that the two Senatorial districts in Delta State have had 8years in government, and, that of Delta North must not be an exception. She stated that the developmental strides of Senator Dr. Ifeanyi Okowa's led administration has proven that he is fit for a second tenure irrespective of the lean treasury he met when he assumed office as the  governor.
In her words, "The opinion of oppositions that Okowa is not working is a mere propaganda aimed at halting the second term bid of Governor Okowa. His developmental strides in the Health and Educational sector, construction of roads, entrepreneurs, youth empowerment through YAGEP and STEP speaks volume to prove that Okowa is working. Okowa is a good 'business' that needs no advertisement. Hence, our mandate is 'Okowa 2019.'"
Continuing, she advised the Okowa Legacy Group  Aniocha-North unit to embark on door-to-door, church-to-church, market-to-market sensitization for Senator (Dr.) Okowa their principal. She therefore, called on sons and daughters of Aniocha-North who are of age to vote to come out enmasse to vote for Okowa come 2019.
Responding, the Aniocha North PDP Chairman, Hon. Victor Egbune, appreciated the Founder of the group, Dr. (Mrs.) Okobah for her effort in creating the group, saying that the advent of the group has made Okowa's second term bid easier because according to him, the task ahead is going to be a tough one indeed.  He therefore, called on all members of the group to put all hands on deck to make sure that Governor Okowa's second term bid becomes a success adding that they should not neglect their primary aim of being member of the Okowa Legacy Group.
Speaking further, he called on all party executives to key into the group and its mandate so as to achieve their goal.
Also speaking during the meeting, the Aniocha North Cordinator, Comr. Chiazor Stephen stated that one-on-one campaign is their priority affirming that, they are out to sensitize residents of the Local Government for Governor Okowa come 2019. According to him, "the developmental strides of Okowa cannot be overemphasized owing to the fact that roads that were abandoned by the past government are being constructed by Governor Okowa led administration, salaries are being paid regularly. In order to keep this good works, the only way is to return Governor Okowa come 2019.
The meeting had the Aniocha North Local Government Council Chairman, Hon. Chuks Oseme, Engr. Emma Eboh, Dr. Amaechi Okobah and other political bigwigs in Aniocha North Local Government in attendance.