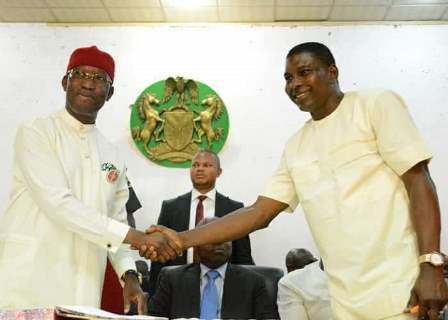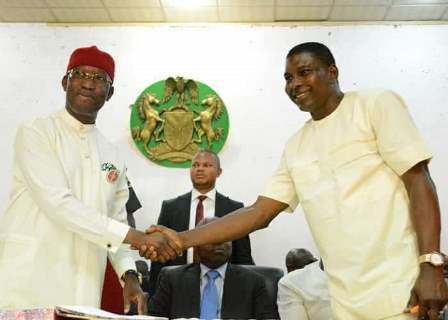 The Chairman of Ika South Local Government Council Area Hon Barrister Victor Okoh gracefully left office on Thursday January 7, 2021 stressing that a lot was achieved during his tenure in office.
This was made known to newsmen during the official handover ceremony to the Ika South Head of Personnel Management (HPM) on Thursday January 7, 2020 at the Ika South Secretariat Agbor.
Speaking to newsmen before the event, the outgoing Chairman, Ika South Local Government Council Hon. Barrister Victor Okoh appreciated the good people of Ika South LGA and His Excellency Governor Ifeanyi Okowa for giving him the opportunity to serve, maintaining that much was achieved during his tenure even in the midst of scarcity of funds.
Hon. Barr. Victor Okoh said that it is normal for one to ascend an office with a lot of aims and objectives adding that it is only when one is now fully on that seat that in reality, one begins to encounter the challenges therein. He then pointed out that that even with the challenges; he was not leaving office in shame.
Speaking on the markets, he noted that if not for public, private partnership, the market would not have been a reality as the local government does not have the fund to build such gigantic markets.
On Primary Health Care, Victor Okoh said the Council was in regular communication with the Primary Health Care centres in the Local Government Area, identifying their challenges and resolving issues within the purview of the Local Government Council.
On environment, the Council Chairman stated that the council during his tenure did its best but said the attitude of residents has made futile the efforts of the local government, pointing out that the issue of the environment is continuum, something that one need to constantly engage in, adding that if the people are not cooperating, it would look as if nothing is being done.
He pointed out that his greatest achievement was maintenance of peace in the local government area as he thanked security agencies, residents of Ika south for making it possible for him to achieve.
Speaking further, he said his major challenge was finance adding that Ika South is among the local governments with the lowest allocation in Delta state.
Victor Okoh disclosed that henceforth all Tasksforce, committees have been dissolved and political appointments terminated, as he urged residents of Ika South to cooperate with the incoming Chairman.