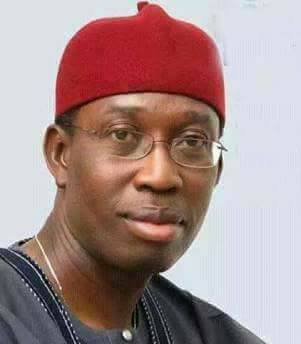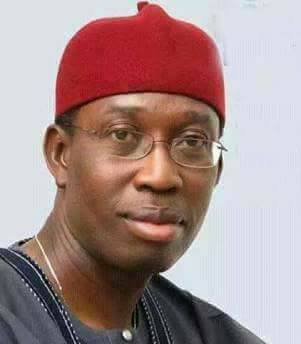 The race for the second term for first time governors like our amiable governor, Senator Ifeanyi Okowa has earnestly just begun. This period, no doubt is the time of re corning for these governors who will now be asking for our support for their second term bid. This is the beauty of democracy. Democracy offers the electorate the unique opportunity to reward a governor who has done well or reject any governor who had not done well. Unfortunately, primordial sentiments run high in our blood and it influences our choice of leaders.
That is why we will continue to move round the circle without making any real progress. Against all odds, governor Okowa has put up a superlative performance in the governance of Delta State within the limits of available resources. The APC led Federal government piloted the national economy into avoidable rescission which on paper they say we have exited.  But the reality is on the contrary.
The implication of this is that the revenue accruing to state governments from the monthly federation account dwindled drastically. The second challenge governor Okowa had to face is the payment of huge loans obtained by his predecessors like former governor James Ibori  some fifteen (15) years ago, has now matured for repayment. This money is deducted at source by the Debt Management office from whatever is shared to Delta state.
The implication of all these is that Dr. Ifeanyi Okowa has very little fund to finance his current and capital projects. In spite of these overwhelming odds, governor Okowa has put smiles on the faces of majority of Deltans through his people oriented projects, such as the building of roads, schools, hospitals and many others. No community in Ika nation and indeed, Delta State can sincerely say it has not benefited from one project or another by the Okowa Administration.
Happily, majority of Ika people, Governor Okowa's primary constituency  acknowledge the fact that Governor Okowa has done well and deserves a second term. Unfortunately, there are still some sons and daughters of Ika nation who out of political bitterness believe that Governor Okowa has not done well enough to deserve a second term.   Some of them have gone into politics of mudslinging with the intent of scuttling Okowa's second term bid   as governor. This is share irresponsibility and unpatriotic act of our brothers and sisters. If you realize that it has taken Ika nation close to 56 years to produce a governor of a state, then there is the need for all the good people of Ika nation to rally around Governor Okowa and give him the necessary support to secure a second term. Governor Okowa is a dunged fighter who is divinely destined to lead.
The very few Ika sons and daughter who do not want Okowa back as governor are in the minority who do not have the interest of Ika nation at heart. They are selfish politicians who are only fighting for their pockets. God is on the side of Governor Okowa and by the special grace of God Governor Okowa will return to government house come 2019.
Agreed that there are still many unfulfilled expectations of Ika nation from Okowa, some of these include economic empowerment through the establishment of a higher institution such as a university or polytechnic of Information and Communication Technology, building of a booster station at Agbor to improve signal reception of Delta radio and Delta TV at Asaba which is currently not being received at Boji-Boji Agbor and indeed, Boji-Boji urban. Governor  Okowa  should  identify  strategic  street  roads  in Boji- Boji Urban  and rebuild  such roads to  high  quality   so  that  the  roads  will continue to be very motor able for many years to come. Also, the main garage market in Boji-Boji Owa should be rebuilt to meet modern market standards.
The same thing should be done to Baleke market in Boji-boji Agbor. Agbor or indeed Boji-Boji urban is the heart beat of Ika nation and is the melting   point of most Ikas. All efforts must be made to give this city the needed economic boost so that it can provide broad based employment for the teaming youths now and in the future. Governor Okowa should avoid the temptation of being dragged into clannish political rivalry which will do no Ika man any good. The clannish rivalry is being championed by a few selfish individuals who are attempting to rewrite the History of Ika nation .The fact that Boji-Boji urban is shared by two local governments should not be a source of disunity.
There are many towns in Nigeria that have more than two or three local governments. Warri is made up of three local governments and three ethnic nationalities   of Itsekiris, Urhobos and Ijaws. Benin City is made up of three Local governments; Abeokuta is made up of three local governments. The people of Ika nation can live together peacefully without clannish rivalry.  Boji-Boji Agbor is the most   reference town of the Ika people. Like the man of God, Rev. Mario Dibie said when he featured as the personality of the week of Ika Weekly Newspaper "Outside Ika land every Ika person is seen to be from Agbor" I have traveled far and wide and have lived in Lagos for close to 35 years. Each time I meet people speaking Ika language and I ask them where are they from, their response have always been Agbor. It is when you probe further that they will tell you which part of Agbor they are from. This could be Ute-Okpu , Otolokpo, Mbiri, Umunede or  Qwa. Recently, I was in Sango Otta in Ogun State to purchase some car tyres. The dealer jokingly said
I was speaking like somebody from Agbor. I now asked him if he too is from Agbor, he said no, he is a Yoruba man but his wife is from Agbor. I now asked him which part of Agbor is his wife from? He said he can't remember. I started mentioning to him the various Ika towns and he confirmed his wife is from Owa. One Ika man a few years ago walked into my office in  Lagos  and when he introduced himself his name was a familiar Ika name. I asked him where is he from? He said he is from Delta State. I asked him which part of Delta is he from. He said Agbor .I   probed further to know which part of Agbor, he said Owa-Oyibu.  All Ikas outside Ikaland identify themselves as coming from Agbor.. This is the reality which fosters unity among the Ikas.
All Ikas should see Boji-Boji Agbor  and  indeed  Boji-Boji  Urban  as their city and work hard  to develop the town. The people of Boji-Boji Agbor and indeed, Boji-Boji urban should have a large heart to carry their other Ika brothers and sisters along without discrimination. Ikas  should  see  themselves  as  one  people  with  shared  destiny and with  great  respect  for  one  another  irrespective  of  their  clan.
Comrade Ben Diken  Iduh  a  veteran  labour  leader  writes  from  Lagos. (Published in Ika Weekly)