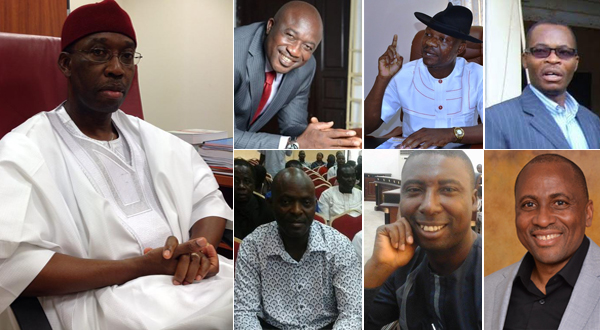 O
ne year in office, how well has Governor Ifeanyi Okowa managed his media outfit and by extension his information dissemination? From all available indices and insiders' information, XCLUSIVE MAGAZINE can authoritatively report that Governor Okowa has done badly.
In truth, Okowa has created what one of our government insider sources has cheekily described as "Media House of Commotion." His media team, like the defunct popular Nigerian hilarious family comedy sitcom, FUJI House of Commotion, from which soundtrack we excerpted the opening quote above, is a cantankerous contraction.
Information Commissioner (Patrick Ukah); Chief Press Secretary (Charles Ehiedu Aniagwu); Head, Directorate of Orientation (Eugene Uzum); Communication Manager (Jackson Ekwugum); SA Social Media (Godspower Omafuvwe Asiuwhu); SSA New Media (Dantes Odogwu). There is a thin line in their job descriptions, which engendered the ongoing struggle for relevance and supremacy that has created a cacophony of confusion.
The general consensus of our panel of government insider sources is that "Okowa has created a counter-productive media team that fail to present him in a positive light because they are busy fighting themselves."
In Okowa's Media Team, there is no authority coming from the Information Commissioner because all other media related aides are positioned to be a law unto themselves; they answer directly to no one but Okowa. And we are told that the media aides are better funded than the ministry of information.
Apart from the in-fighting at the "general Media and Information" level, there are other pockets of fights at the "media foundation" level: Ukah versus Uzum; Godspower vs Dantes
Patrick Ukah versus Eugene Uzum
On 19 April 2016, with the elevation of Eugene Uzum from SSA Special Duties, Orientation and Social Development to the position of Executive Assistant Directorate of Orientation, hitherto a department of Information Ministry, Okowa made another appointment that further diminishes the power and position of Patrick Ukah and weakens the effectiveness of his Media Team.
A source very close to Okowa told XCLUSIVE MAGAZINE that Uzum's key ambition is not to sell the government, but to frustrate Ukah. The source insists that Uzum believes he is the rightful owner of the Information Commissioner position and that he was robbed. Frustrated by being placed on a position that he felt was far below what he merited, Uzum once threatened to resign as SSA Special Duties, Orientation and Social Development.
Government insiders told XCLUSIVE MAGAZINE that Uzum's subsequent appointment was a direct result of that threat, and it seemed obvious that governor Okowa was under immense pressure to impress his people even at the detriment of compromising his Media Team that is supposed to be under the control of Information Ministry. So he had to act.
Dantes Odogwu versus Godspower Omafuvwe Asiuwhu
Dantes Odogwu and Godspower Omafuvwe Asiuwhu are from different senatorial district: the former is from Delta North and the latter is from Delta Central. The general expectation was that their appointments would create a sort of balance of power in the sharing of the State's cake. But a government source, who described Governor Okowa's approach to governance as "Ikacentric," told XCLUSIVE MAGAZINE that it was discovered not to be the case.
He revealed that Dantes' New Media was created to supersede Godspower's Social Media, contending that it was done on purpose to undermine Godspower Asiuwhu and the people of Delta Central. The source was quick to point out that while Asiuwhu was and still carrying out his social media function at the lower level of a Special Assistant; Dantes was brought in to operate the New Media as a Senior Special Assistant, a superior.
XCLUSIVE MAGAZINE gathered from other governor sources that these two people belong to different clicks within Okowa's Media Team. Dantes has close ties with Jackson. Godspower is tied to the apron strings of Aniagwu and Dr Kingsley Emu, one of the Five Most Powerful People in Okowa's Government.
Dantes ties to Jackson. Godspower ties to Aniagwu. Then Eugene pulling his own weight. All five people in Okowa's information management team. All five except Godspower from Ika, Okowa's constituency. Where then does Patrick Ukah stand?
"All alone," answers another government insider source. "It is difficult for someone so isolated to make any meaningful impact nor survive in the long run." However, the government insider reveals that, contrary to earlier media speculations, at no point did Ukah threaten to resign.
"I think Ukah is just frustrated with the turn of events and his body language is that of a man who appears to have resigned to his fate, but definitely not a man who is about to resign from his office," the source said.
If Ukah can't jump, would he be pushed?
A female insider source says "not immediately, may be one year down the line." She goes further to state that Ukah is not a strong commissioner in political terms. And Nwaoboshi is not in the best of terms at the moment with the Governor.
"Even though he is not Nwaoboshi's candidate but that of Engineer Gabriel Ogbechie owner of Rainoil, Okowa knows that Ukah is from Nwaoboshi's Oshimili North constituency and loyal to him," she said.
The insider source, however, insists that Okowa's plan is for Ukah to last two years in this government as was originally agreed with his sponsor, billionaire Ogbechie. And she is confident that Ukah will sit out his remaining one year as Information Commissioner despite the myriads of crisis in what is supposed to be his media team.
– See more at: http://xclusive.ng/okowas-one-year-in-office-his-media-house-of-commotion/#sthash.VA7vhLz5.dpuf