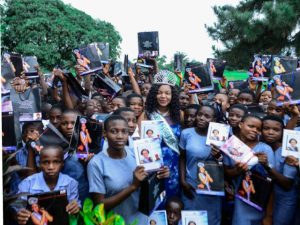 By ANTHONY ADA ABRAHAM
W
ednesday, June 22, 2016 is a day that will linger on for a long time in the memory of some primary and secondary school students, not just because the beauty queen made a stop to their schools, but she touched their lives in a way they least expected.
Queen Okwunodo who is the reigning Miss Ambassador for Peace, Nigeria shook the city of Delta state when she awarded scholarships to over 20 students in primary and secondary schools.
Dressed in her beautiful regalia, wearing the crown she wore during the Miss Ambassador for peace beauty contest. Her smiles was welcoming while her gaze charmingly endearing.
Her plan is to visit schools around the nation, giving the best pupils from primary 1-6 scholarships while also visiting secondary schools and awarding the best students from JSS1- SS2 scholarships.
Queen Judith Okwunodu, under the flagship of Peace Ambassador Agency, embarked on a Peace Education Campaign tour to Delta State, Nigeria. Judith who hails from Umunede, Delta State, currently serves as the Miss Ambassador for Peace 2015/2016.
According to her, Delta State was her starting point as she believes Charity always begins at home.
With the increasing rate of Violence in Nigeria and the World today, preaching peace and its importance is what can make the world a better place, where else is a perfect place to start but the schools as the Youths are not only the leaders of tomorrow but today.
According to the ever smiling and respectful Queen, the essence of the Peace Education Campaign was not to show off but to catch these young ones. And in contributing her quota in peace building in Nigeria and the world at large, the event which held from June 15th – 16th, 2016, also witnessed Queen Judith Okwunodu and her crew paid a visit to the Obi of Umunede, His Royal Highness, Agadagidi (The Obi of Umunede); as the saying goes, "Give honour to whom honour is due". Being excited about her innovation, His Royal Highness prayed for her and assigned two delegates from his council to work with Judith and her team.
Four schools in Umunede LGA, Delta State benefitted from the peace Education Campaign where gift packs comprising of educational materials, Mathematical sets, bags and text books were distributed among the students of these schools. Schools which benefitted from the largesse include: Ede Grammar School, Umunede Mix Secondary School, Ogbe Model Primary School and Ukpeghoro Primary School, where the students went wild in admiration.
Her gesture broke a project record in the beauty pageant scene. When asked why she decided to embark on the somewhat impossible journey, the ever smiling and generous queen said it's her passion for the downtrodden that motivated her to embark on the journey that led her into contesting for the crown which she eventually won. She explained that though she's the one sponsoring herself on this project, she wants to fulfil all promises made to herself before winning the MAFP crown.
"In today's world, more so, a culture of peace should be seen as the essence of a new humanity, a new global civilization based on inner oneness and outer diversity. The flourishing of a culture of peace will generate the mind-set in us that is a prerequisite for transition from force to reason, from conflict and violence to dialogue and peace. Peace is often considered as the fundamental basis of stability, progress and development in human societies. Peace connotes tranquillity, psychological consonance, physical and environmental stability and the sustenance of enabling circumstances that guarantee freedom from all sources of all individual and societal instability.
"One of the effective methods for the mainstreaming of peace in the society and indeed promoting the process of peace building is through the instrumentality of formal and informal education. After all, it is said that education is a lifelong learning process for the individual and the community." She stressed.
Speaking to the students of the schools, Queen Judith Okwunodu said: "We are the future leaders of Nigeria; hence, we should all live an exemplary life. We shouldn't be used as a medium of terror and violence. We should all be advocates for peace and unity which is the only way we can make our communities and country a better place"
Queen Okwunodu led the entire students at various schools in chanting "I am an Advocate for Peace, I am an Ambassador of Peace"
During her visit, each school management selected the best performing students in each class from Primary 1-6 and JSS 1-SS2. Special presentations were made as well as the award of scholarships to these students. Of course, the school management and teachers were not left out gift items were also given to them for the hard work and labour. All these were to motivate these students to be better educationally and morally.
The staff and students of these schools could not contain their joy and as they sprawled the fields of ecstasy, they expressed their desire to have Queen Judith Okwunodu visit again. The principals were very appreciative of the Peace Ambassador Agency and thanked them for their initiative in the imperative peace process that is desperately needed.
With her achievements as Miss Ambassador for Peace still garnering more acclaim, not forgetting the Peace Football Tournament held in Delta State as well as Visit to The disable community in Karmajiji LGA in Abuja where she donated food items and cash gifts to the residents, Queen Judith Okwunodu stated that plans are already in place to take this campaign to other state in Nigeria, details to be made public as soon as it has been concluded.
The Queen did not forget to give thanks to God for the opportunity to serve and the resources made available. In her Words "It has been God all the way, none of these things would have been possible if not for the help of God and also thanking Him for the opportunity to serve as Miss Ambassador for Peace 2015/2016 and through this office to touch lives".
"I will want to give a special shout out to my Parents, my Mentor, Rev. Godwin Okonkwo as well as the crew who worked tirelessly to make this possible, John Dania, Owoeye Obafemi, Ebuka Alphonsus, Uche Aniemeke, Eric Emakpo and Steven Chukwu, just to mention a few; not forgetting The Director of the Agency, Amb. Kingsley Amafibe for his continuous support and motivation. I say be the Change you want to see in this world!"