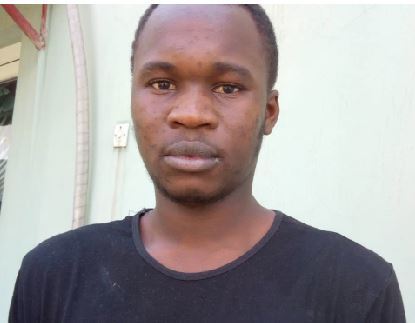 ANTHONY AWUNOR (Lagos ) reports on the dilemma of a Libyan returnee to Nigeria.
There was melodrama recently at the Cargo Terminal of the Murtala Muhammed International Airport in Lagos when a returnee, Emmanuel Chinedu shocked the officials of the International Organisation for Migration (IOM), National Emergency Management Agency (NEMA) and the Nigeria Immigration Service (NIS) , by declaring that he could not identify his address in Nigeria.
LEADERSHIP Sunday investigations however, showed that 24-year old Emmanuel whose father is from Agbor in Delta North part of Delta State, had traveled to Libya last year with the intention of crossing to Europe in search of greener pastures.
Alas! It was gathered that Emmanuel could not locate his father's house in Agbor when he was deported, because his Gambian mother had been hiding the address away from him eversince he was born.
Although, Emmanuel's mother, Mrs Mariam Jallow from Frufutu South in The Gambia had since been remarried to another Gambian man when Emmanuel's father had died, but the Gambian lady still believes, that once Emmanuel reaches his family's home in Agbor, his uncles may not allow Emmanuel to come back to The Gambia.
According to Emmanuel, his mother had refused to show him his father's house in Agbor for fear that she might loose him to the Agbor family.
"Whenever I ask my mother to take me to Agbor, she always refuses. The reason she gave me was that my uncle in Agbor would seize me and would also disallow me from going back to my mother in The Gambia. This is why she has refused to give me my father's contact in Agbor ", Emmanuel said.
"I am not happy. I want the Delta State Governor, Senator Ifeanyi Okowa who is also from my place to intervene in my plight. All am saying is that Agbor is my home. And that is where I want to be", Emmanuel added.
Lamenting further, Emmanuel who was doing some plumbing work in The Gambia before traveling to Libya, threatened that he would commit suicide if he is unable to trace his origin in Agbor.
Already, the immigration authority had dispatched Emmanuel to The Gambia on the 17th November, 2018, since he could not locate his paternal address in Agbor which he claims is his real origin.
One of the reasons Emmanuel decided to travel to Libya, LEADERSHIP learned was to escape from The Gambia and furthermore attempt to come back to Nigeria by all means possible.
Unfortunately, when Emmanuel arrived Nigeria few weeks ago, he was unable to identify their family house in Agbor and was therefore, forced back to The Gambia against his wishes.
Emmanuel was among the batch of 116 Stranded Nigerians returned to the country from Libya aboard Al Buraq Airlines with flight number UZ 489 that arrived MMIA cargo Wing around 12:40 am on the 14th November, 2018.
The returnees who had tried to proceed to Europe en-route Libya were repatriated from the North African country by International Organisation for Migration (IOM).
While receiving the assisted voluntary returnees, Mr Segun Afolayan, the Acting Coordinator of the National Emergency Management Agency (NEMA) South West Zone, welcomed the returnees back.
The returnees comprised of 53 females and 63 males. Amongst who are 46 adult females, 2 female children and 5 female infants with 56 male adults, 6 male children and 8 male infants.
While advising the returnees to discourage irregular migration, Afolayan stated that migration is a fundamental right of every human being, but when a man embarks on irregular journey violating the laws of other nations by not following the regular means of migration, the country of destination may apply the nation's laws to handle such.
To end this exposure of such irregular migration, the Acting Zonal Coordinator revealed that Nigerians who wish to migrate can now visit the Migrant Resource Centre opened by IOM in conjunction with the Federal Government.
The Centres located at the Federal Ministry of Labour and Employment offices at Benin, Lagos and Abuja.
According to Afolayan "The Centres are opened to all Nigerians who wish to travel outside the country. They can access detailed information on their intended country of destination."
"Such information as the types of employment and educational opportunities, counseling on the right and safe routes to travel, the security level of the expected country as well as skill acquisition to whoever approach any of the centres in the country. This centres are created to stem the gaps of inadequate information that many Returnees have been complaining about", Afolayan said.
Source: https://leadership.ng/2018/12/16/drama-as-libya-returnee-claims-ignorance-of-nigerian-address/