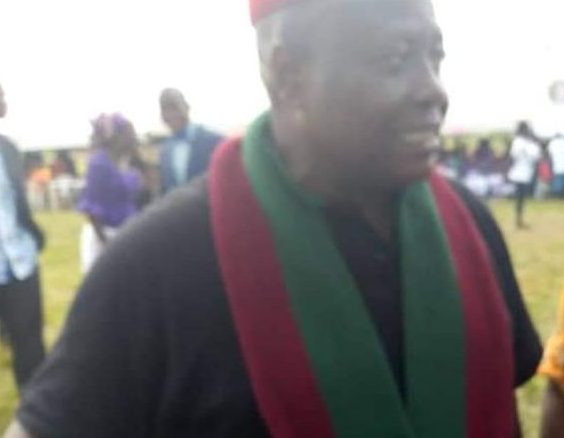 An Agbor based legal practitioner and a member of the Agbor Royal Family, Prince (Barr) Sunday Osajie Albert Gbenoba has frowned at the address presented by the President,Oza-Nogogo Elite Foundation,OEF, Barr Bernard Oriahi during the maiden edition of the just concluded Oza-Nogogo cultural/thanksgiving day, saying that there is only one monarch in Agbor Kingdom who is His Royal Majesty Dr Benjamin Ikenchuku Keagboekwuzi 1.
According to him,"I read with surprise the full page address by Bernard Oriahi, Esq.,on the occasion of the Oza-Nogogo cultural/thanksgiving day held in December this year and published in Ika Mirror newspaper.
First, talking about payment of stipends to the Ogisi of Oza-Nogogo, I want to ask what cadre of Chief is he in Agbor Kingdom? The Uzama Class, the highest among the Chiefs in Agbor, are they on stipends from the State Government. Ogisi is not an Uzama Chief let alone addressed as a paramount ruler. The author is supposed to be a lawyer of about fourteen years post-call but, it is advised that he averts his mind to the Traditional Rulers and Chiefs Law for guidance. Dein of Agbor, His Royal Majesty Dr Benjamin Ikenchuku Keagboekwuzi 1 is the only Prescribed Authority and Traditional Ruler in the entire Agbor Kingdom of which Oza-Nogogo forms a part.
"If the organizers of the event had taken pain to read their history, they would have known what they did was not an epoch-making event. The old script was first played in mid-70s and the outcome was clear. If you don't want to belong to Agbor Kingdom you are free to leave, root, stalk and barrel".
Speaking further, Prince Gbenoba said,"the event of December 1, 2018 was replaying the script in mid 70s. You cannot make any meaningful progress without recourse to your history and past. In as much as one cannot make any meaningful progress without looking at the past and examining the present in order to make a projection at the future, if you look too much at your past, you would focus and hit a brick wall. Oza-Nogogo has produced several councillors under the umbrella of Agbor Kingdom and other political offices. The whole of that flank (Alizomor, Omumu, Alisor, Oza-Nogogo and Alisimie are under Ozomor of Agbor). The Dein in his magnanimity has been good to all. Dein lobbied and canvassed for the new school sited at Oza-Nogogo. In Agbor, language has never been a barrier. The exercise by Ben Oriahi, Esq. and cohorts was an attempted swoop on an impossible mission. Those who attempted it in the past never saw dusk."
Source: Ika Miŕror Newspaper