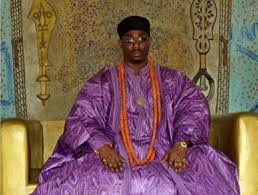 Agbor palace has officially confirmed the cause of the fire that destroyed the home of the Dein of Agbor on November 2, 2017.
In an advertorial published in The Pointer Newspaper on 9th of November 2017 and in Ika Weekly Newspaper on the 11th of November 2017, the palace confirmed that the fired was caused by electrical faults. According to the palace, "For the record, the fire appears for now to have been caused by an unfortunate electrical fault and the palace will soon embark on a safety check of the palace grounds and its properties to minimise such tragedy occuring."
The advertorial that bears the palace official logos and signed by six signatories goes further to state that "The palace and the Crown are most grateful nobody was injured or hurt and stand strong to say that like the beautiful and powerful mythical Phoenix Bird, Agbor shall arise from the ashes anew and better than before".
Concerning Dein's return to his kingdom, the palace assured the Kingdom of the desire of the Dein to return and called for patience but was silent on when the Dein is coming back.