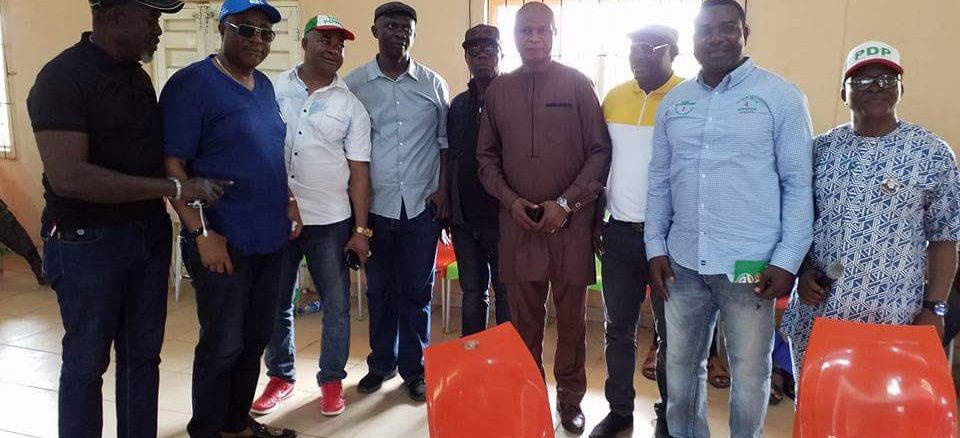 The PDP House of Representatives primary held yesterday  3rd of October 2018 was won by Hon Victor Nwokolo, according to unconfirmed results that emerged from the venue. The results showed Hon. Victor Nwokolo scoring 175 votes while Dr. Philip Okwuada scored 119. 1 vote was void.
Although supporters celebrated the victory of Hon. Victor Nwokolo, the election was immediately trailed by criticisms on social media and by shrugs in Ika South Local Government Area.
Hon. Victor Nwokolo who hails from Igbodo, Ika North East Local Government, is a two term legislator representing Ika Federal constituency who is now vying to go for a third term. Although his perfomance during his two terms in the Federal House of Representatives has been deemed to be below average, if not poor, he entered the race a favorite with overwhelming financial advantage and the support of Governor Ifeanyi Okowa.
Discomfort in Ika South
Although this is an entirely PDP affair, the source of irritation in Ika South is that there was an agreement initiated by Governor Ifeanyi Okowa, who hails from Ika North East, when he was a candidate, that two terms in the House of Representatives is enough for Ika North East. He had publicly given his words that Ika South will fly the flag for the PDP in 2019. Then he changed his mind.
It appears that the Governor sensed that he will face no serious opposition from any person of substance in Ika South and especially within Ika South PDP and decided to abandon his promise.
Setting up Ika South for a Fall
The Delta State Governor began using his leaverage early and wisely so. He littered the streets of Ika South LGA with Special Assistant (SA) appointments by appointing almost any person he deemed capable of protesting as a Special Assistant, paid or unpaid. This even included the man, Dr. Philip Okwuada, who emerged as the opponent to Hon. Victor Nwokolo. Generally, Ika South PDP landscape in Ika South has been largely impoverished and rendered politically and financially insecure. This, according to various opinions, also made them suceptible to financial and political inducement.
Finding a candidate in Ika South Local Government Area to run for the Federal House of Representatives was almost impossible. Most potential candidates were either financially tied to Asaba for their survival or have been appointed Special Assistants to the Delta State Governor, waiting in vain for their Governor to give them his blessing to run and a promise it will not be in vain. No one dared risk ending up on the wrong side of the Governor.
Then Dr. Philip Okwuada emerged to Challenge Hon. Victor Nwokolo. It was clear from the begining that the Governor was never going to support him. The Governor even made this clear to some members of an Agbor Socio-Cultural club who visited him. He also made it clear to them that Abuja wants Nwokolo back.
Dr. Okwuada ran a bold but disadvantaged race from the start. He could not match Hon. Victor Nwokolo's financial advantage when it came to working the delegates. There was a time when som Agbor PDP members complained that while Hon. Nwokolo was "wedging cola" with hundreds of thousands of naira when visiting members, Dr. Okwuada was "wedging cola" with 50 thousand naira.   Although he won some support among party members in Ika North East who felt that Ika South PDP should represent them for equity sake, he could not muscle up enough voices in Ika South and especially in Agbor, where he hails from, to convince the Governor to keep his promise. Many Agbor PDP elites stay way from Dr. Okwuada.
Now, Hon. Nwokolo will have to convince the entire Ika population in the general election in 2019 that he deserves a third term.