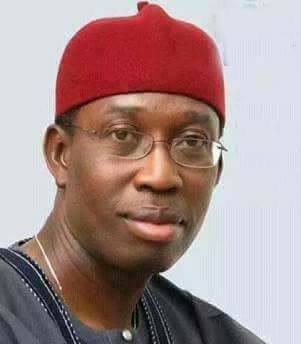 By Onyeagbor O. E
Issues everywhere. The gale of defections ravaging the All Progressives Congress (APC) has made the temperature of Aso Villa unbearable that Mr president decided to defect temporarily to the Queen's land, sweat London. Buhari run away, osor Saraki! Oloye pikin you are a true son of your father either for good or bad. Poor old man. What goes around comes around – a replay of 2014! Whatever a man sows he reaps . Those who sow to the wind will reap the wild wind.
Pardon my digression. Let's talk home. Whoever think that the Ika Federal Constituency rat race will not ruffle feathers if not tactically managed should visit the Ifa priest and ask the Oracle what lies ahead.
On the 13 March 2015, His Excellency Sen, Dr Ifeanyi Arthur Okowa the Governor of Delta State then a Senator and gubernatorial flag bearer of the People's Democratic Party (PDP) made a declaration that in 2019, Ika South Local Government Area will take their turn for the position of House of Representatives and there was a loud ovation. The Audio record is handy. Hon Barr Victor Nwokolo from Ika North East who won the party Primaries for a record 2nd term was seated by his side.
To God be the glory, Dr Ifeanyi Okowa from Ika North East won the guber elections in 2015. In the spirit of equity and sportsmanship , the House of Representatives position is already zoned to Ika South – lol and behold Barr Victor Nwokolo is in the race again erecting all all manners of needless political submarine to edge out all Aspirants of Ika South extraction. Haba, what happened to our conscience? Not unexpected, the stakeholders who ought to speak up against this breach and grave injustice are keeping mute. Blame them not, they are simply maintaining table manners – you don't complain while eating. Elders are at home dinning and winning while a goat delivers on teether, ajor ifie! Evil only triumph when men of good conscience do nothing.
All hope is not lost. There is only one man who can save the situation. A true Leader is known by the position he takes in moments of controversy and crisis. His Excellency Sen, Dr Ifeanyi Arthur Okowa is the man history beckons on to issue the necessary directives and it's a goal. The maverick politician reputed never to have reneged on any of his promises hence the tag 'Ekwueme' (interpreted talk na do) should shine with this needless imbroglio. One of his long time political discipline hinted that if there is anything the Ika-born Governor values, it's his promises. Over to you Ochuko Ru_Urhobo!
Think of it: what will Barr Nwokolo do for Ika Federal Constituency that the Governor cannot do 10 times? Is the house of Reps position worth destroying the Governor's hard earned name 'Ekwueme'? Will it engender equity, unity and fairness for the same local government to produce house of Reps for 12 years and Governor for 8 – years while the sister local government goes empty?
Two dogs can only play when they fall for one another. If there is a lot of sand in the soup the blind will detect it.
Finally, friends and aides should help the Road Master Governor to build supports and consensus instead of creating more challenges for him.
All said and done. Wednesday 19 September, 2018 is the date, may God grant Ekwueme the wisdom to do the needful! Good name they say is better than riches!
Onyeagbor O. E. wrote for Tsm Media
Article republished on Ikaworld.com