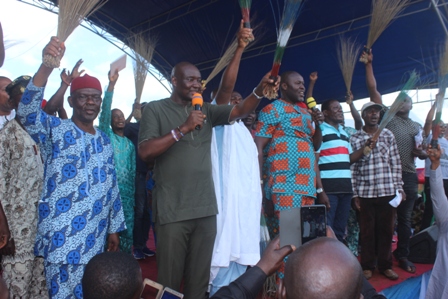 Umunede Kingdom in Ika North East L.G.A of Delta State, experienced total shut down on business activities on Tuesday, August 14, 2018 as inconceivable number of Umunede indigenes, supporters and friends came out to witness and support the official defection of Sebastine Okoh from People Democratic Party PDP to the All Progressives Congress (APC). The great occasion attracted APC Chieftains in Ika North East and Ika South with Ward Chairmen from both Local Government and other notable personalities from far and near.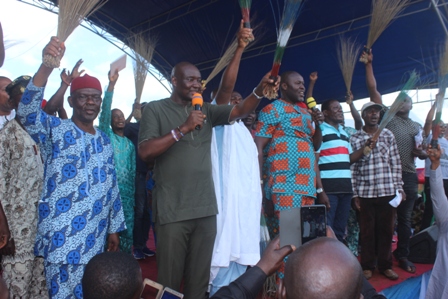 In his address, Prince Innocent Obaseki stressed that Sebastine Okoh has come to deliver Ika people from the hands of selfish and greedy men and women in Ika land, saying that on various occasions, Sebastine has put smiles on the faces of the people, especially the poor in Umunede and Ika land in general.
Prince Obaseki disclosed that he would support and follow Sebastine Okoh wherever he goes, describing him as trustworthy, compassionate, humble and a man who sees the need to help people. He added that he is a man who understands the plight of the down trodden and identifies with them and as such, "We will support, follow him to the end and help him achieve his vision for Ika people. Because of Sebastine Okoh we have joined APC. We have chosen him as our own candidate. No more imposing of candidate on us."
On his part, Hon. Ekene Kerry stated that as an APC member, he was overwhelmed with joy to see Sebastine Okoh join APC, stressing that they are proud of him, just as he assured him of maximum support from the party. Hon. Kerry pointed out that the time of Sebastine Okoh has come and no man can stop him. He noted that Ika people have unanimously agreed to send Sebastine Okoh to represent them at the Federal House of Representative, Abuja.
He reiterated that Sebastine Okoh has joined APC and as such, all hands must be on deck to give him victory especially the indigenes of Umunede whom he said must set good examples for others to follow. Hon. Kerry further hinted that in Ika Federal Constituency, Umunede has the highest voter's registration and as such, they must be well prepared to give Sebastine Okoh maximum support in ensuring a swift victory come 2019 general election.
Mr. Sebastine Okoh, beaming with smile as he was ushered to the podium with thunderous applause, thanked all who came to honour him and their support thus far, saying he is highly grateful. He described APC as a party where the people decide who to represent them, stressing that the party has come to stay. While affirming that his move to represent the people at the Federal House of Representative was a divine mandate, Sebastine Okoh pointed out that his defection from PDP to APC was a heavenly direction. He noted that light has come into APC, saying that the voice of the people is the voice of God.
He reiterated that all his moves were been directed by God and the people who he said are always behind him. He concluded urging everyone especially those who were yet to acquire their PVC to do so as that is their only requisite to vote come 2019 general election.