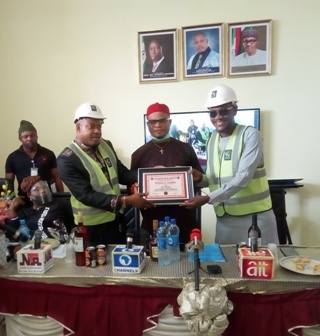 This was revealed to newsmen during the official signing of Joe Morgan as the brand ambassador, in an event held at the company's office along Old Lagos Asaba Road Boji-Boji, Owa, Ika North East Local Government Area of Delta State on Saturday July 18, 2020.
Speaking to newsmen, the Chief Executive Officer, CEO of Prince Paradise Global Concept (PPGC), Comrade Prince Okonye said the company has put in place machinery to ensure that come 2030, Ika land will look like London, adding that the company has already acquired over three thousand plots of land in Emuhu and intends to replicate that in ten communities in Ika land before the end of 2030.
Prince Okonye stated that but for the rain, work would have kicked-off in earnest. He however assured that he and his team would take the advantage of August break to commence work on the estate.
The C.E.O noted that although cost of a plot in the estate is currently Eight Hundred and Fifty Thousand Naira, the value will appreciate with time, saying that the awareness provides low income earners the opportunity to buy now that it is cheap, before it will be too high for them to afford.
Prince Okonye pointed out that there would also be a scheme where people will buy and pay installmentally, adding that in civilized countries, nobody buys a property and pays outright. He said that people own houses in civilized worlds through mortgage.
Speaking further, he maintained that profit is not the major concern of the organization, saying that the company would have been in Lagos, Port-Harcourt or Abuja, if it is profit oriented. According to him, PPGC desires that even an Okada man in Ika land should own a house. As a result, the company has decided that they will not sell more than four plots to an individual, and a maximum of six to corporate bodies.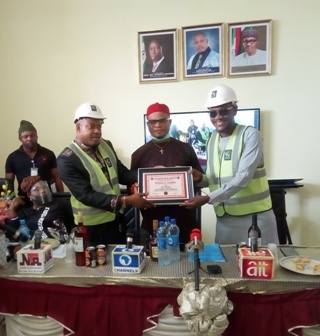 Furthermore, he noted that if a plot of land can be sold for over 45 Million Naira in DDPA where the only facility is good road, investing in PPGC's Estates would be better as they will not only construct roads, but also, there will be adequate security and other amenities to enjoy.
He further disclosed that the major reason venturing into the business is for it to be on record that he is the first person to introduce something of this nature to Ika land, adding that he knows that in no distant time, a lot of persons will go into the business, a situation, he said will be good for the people of lka land.
Speaking on the choice of Joe Morgan as the company's Brand Ambassador, he disclosed that after much consideration, the company came to the conclusion that Joe Morgan is the best to represent the company, as he has a good track record and is a man of integrity.
Speaking to newsmen after the official signing of documents, Mr. Joe Morgan, a popular Ika highlife musician and  popularly referred to as "Dat Agbor Boy," said he feels honoured to be deemed worthy to represent the brand.
Mr. Morgan stated that the venture is the first of its kind in Ika nation, saying that he is proud to be part of it.
He assured that he would do his best to ensure that he promote the brand positively. He then called on Ika sons and daughters, both at home and in Diaspora to have it in mind that Ika is their only home and as such must ensure that they do all they can to contribute their quota to the development of Ika land.
The Chief Executive Officer (C.E.O), Daniels Vintage, Mr. Friday Daniels described the project of PPGC as a laudable one, and enjoined other wealthy sons and daughters of  Ika land to emulate such, noting that such ventures will bring development to the community.
The politician cum business man urged Ika residents to key into the project, saying that in no distant time, a plot in the estate will be sold for not less than Ten Million Naira.