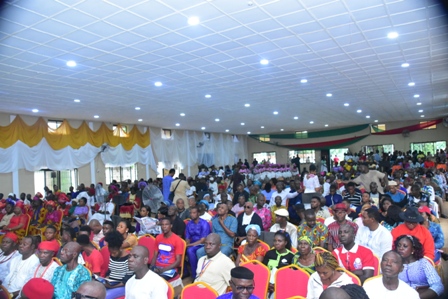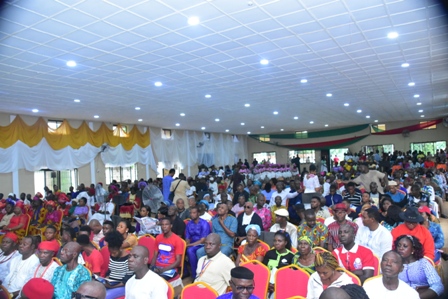 Agbor, host of the just concluded 20th Ogwa Ika, was agog on Saturday August 18 2018 in what has been described as the most attended Ogwa Ika since its inception 20 years ago.
The event graced by patriotic sons and daughters of Ika land, home and abroad, saw the Agbor Community Hall of about a thousand capacity totally filed to capacity by various communities made up Ika Nation.
Giving his address, the Head, Collective leadership of Onu Ika, Mr. Daniel Usifoh, stated that the 2018 Ogwa Ika reflects an enhanced unity in Ika nation as evident in the large turn of traditional rulers for the event., praying for the sustained unity beyond the event.
He disclosed that the essence of the event is to discuss the past, present and future of Ika Nation. He opined that Onu Ika aside being the mouth piece of Ika Ethnic Nationality is also "a platform for Ika sons and daughters to discuss issues relating to social –cultural, economic, political well-being of Ika people, peace, unity and prosperity of Ika Nation".
Highlighting various issues concerning Ika land: the push towards reinstatement of Ika language in College of Education, Insecurity, herdsmen, youth exodus and human trafficking, flooding and erosion in Ika land, electricity supply in Ika land, building of a befitting Ika national hall amongst others, Mr. Usifoh appealed to the State governor, Sen. Dr. Ifeanyi Okowa to use his good office to address such issues.
In his welcome address, the host of this year's event, Dr. Benjamin Ikenchwuku Keagborekuzi1, Dein of Agbor Kingdom, welcoming guests to Agbor Kingdom, stated that the essence of the event is to gather as one, deliberate, create stronger bond share experiences and chart a way forward to develop a better Ika.
According to him, "we are gathered here because it is good for kinsmen to get together sometimes as we have done, to deliberate and celebrate the things that hold us together, and make our bonds stronger, to share experiences and chart new ways while reinforcing the old ways of bringing progress to our land and people.
We need to develop our people to become more competitive in accessing the various benefits and opportunities available in our country Nigeria".
The colourful event was well attended by dignitaries from all works of life, monarchs in Ika land , the political class led by the State Governor, Sen. Dr. Ifeanyi Okowa, Sen. Peter Nwaboshi, Hon. Victor Nwokolo, the two House of Assembly members in Ika Nation, both Local government Chairmen, board members, academians, chiefs cultural troops and others.
The event also saw the presentation of award to winners of this year's Onu Ika Essay Competition, winners of cultural dance troupe and presentation of certificates to deserving Ika people.