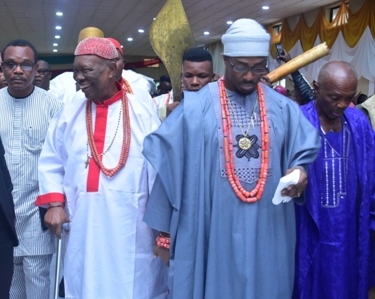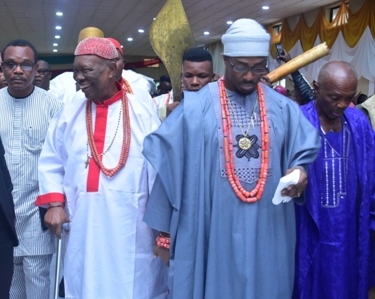 The Executive Governor of Delta State, Sen. Dr. Ifeanyi Arthur Okowa has hailed the existing peace and unity between Monarchs in Ika Nation, attributing their unity as the reason for the peace in Ika land. He gave the commendation during the 20th Ogwa Ika organized by Onu Ika Nigeria, the mouth piece of Ika Ethnic Nationality, hosted a by Agbor Community at the Community Hall, Ime-Obi, Agbor-Obi, Ika South Local Government Area on Saturday 18th August 2018.
"The unity of our traditional rulers is the unity of the whole of Ika Nation. Our traditional rulers are supposed to lead us in the path way that we should go. When the traditional institution is united, the political class has no choice but to unite as well, because if anyone fails to unite, then our traditional fathers also know what to do.
We are at a time in the history of Ika land and we need to take advantage of that time in our history. Our traditional rulers are highly intelligent. Am very pleased at their turnout at this year's Ogwa Ika", he averred.
His Excellency appreciated the large turnout of Ika people at the occasion, stating that this year's Ogwa Ika has the highest turnout since its inception 20 years ago. He specially thanked the Royal Fathers for coming out in their numbers to grace the occasion, urging them to work together to advance the cause of Ika nation. He prayed God's blessings to rest on them and all the kingdoms in Ika land.
Responding to the topic of the occasion, 'Mass Exodus of Youths and National Development; A case of Nigeria –Libya-Europe Migration Trend', presented by Dame Julie Okah-Donli, Director- General of NAPTIP, he appreciated the leadership of Onu Ika led by Mr. Daniel Usifoh for gathering Ika nation together to enlighten them on Human Trafficking.
He highlighted that ignorance and misinformation has led to the youths going to countries like Libya and Mali, describing it as a new means of 419. He advised parents who sell their lands and belongings to enable their children travel abroad in the name of jobs to invest the money in establishing businesses which will yield profit rather than lose the money and also lose their children.
"Oversea is no longer the way it was ten years ago. Most of our children there are suffering, there are no jobs anymore. Our people go to Mali and Libya, when people in Mali are looking for how to relocate to Nigeria, while Libya is war-thorn. Our people are not properly informed".
The governor noted that people are being deceived into modern day slavery, explaining that people are easily deceived by the mention of Oversea without making proper inquiry to know where.
Reacting to Delta State ranking 3rd as the State with highest victims in human trafficking after Edo and Kano States, he appealed to the traditional rulers in Ika nation to take a stance against human trafficking so as to put an end to the menace. He opined that Delta State should only rank first in good and worthy developments.
"Our parents have brought us up well, but unfortunately, modernity is changing everything. We will partner Onu Ika to ensure that they lead a campaign against trafficking across the State. I thank Mr. Daniel Usifoh for the efforts he has put in and we have set up a committee that will lead the campaign across the State, starting from Delta North.
Nobody wants to work anymore but they want to make money. There is no tree where money grows. If you decided to make money by going through the wrong path, that money can only last a few years before you will run into trouble. We must make up our mind, because when you work hard; there is a future for you, even if it takes time. Our parents must know that they have a role to play", he averred.
He also noted that the greed of some parents has led their children into wanting to make quick money by going to Libya and through other illegal ways of making money. He therefore called for hard work, saying that some countries our people rush to, are worse than Nigeria, even in the light of the hard time. He called on graduates to embrace entrepreneurship to grow themselves and become employers of labour. He concluded by urging Ika people to be champions of change against human trafficking.