Members of the Ika Union of Great Britain and Ireland held their Christmas party on Saturday, December 14, 2019 at the Glasshouse Community Centre, Vauxhall, London, just round the corner from the River Thames and Britain's iconic building, the M15 Building which is the Headquarters of Britain's Security Services.
Members were joyously joined by the Executive members of the West Midlands branch of the Ika Union,led by Mr. Louis Ijenwa from Owa Ofie in  Ika North East Local Government Area of Delta State who is Chairman, IPU West Midlands Branch
.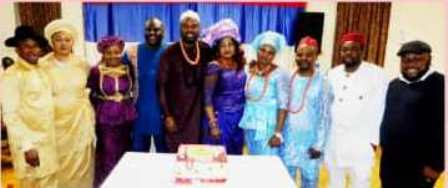 His companions were Mr. Remy Okoh, Chairman, Welfare, who hails from Mbiri, Ika North, Secretary, Mr. Edmond Nwagbogwu, from Owa Alero, Ika North East, Treasurer, Finest  Arojie from Igbanke, Edo State and the Provost and Public Relations Officer, Mr. Godwin Nsukwa from Agbor in Ika South Local Government Area of Delta State.

Ika Union President, Mrs. Esther Onwuemezia from Alisimie, Agbor,Ika South Local Government Area of Delta State welcomed them whole heartedly to the party and exhorted them to uphold the spirit of solidarity among the people of Ika land.
Mrs.Onwuemezia invited them to the Fund Raising Event which the London Branch would flag off in September 2020, in order to raise funds for the purchase of medical equipment which will be distributed to selected hospitals in both  Ika North East and  Ika South Local Government Areas of Delta State.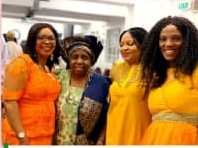 Mr.Ijenwa from Birmingham in his response, pledged allegiance to the London branch and invited its members to their own Christmas party which took place the week before Christmas and was attended by Mr. Christopher Buzugbe from Owa Oyibu, Ika North East and the Union's Social Secretary and Morgan Ijeh from Ogbe -Mmudein, Agbor, in Ika South Local Government Area of Delta State as representatives of Ika Union, Uk, London Branch.
It will be recalled that at the last British Government Elections, an Ika indigene, Mrs Florence Eshalomi, nee Nosegbe,was elected as British Labour Party Member for Vauxhall, London.
Mrs Eshalomi, 39, is a niece of Chief Michael Nosegbe, a former Delta State Commissioner and Lawrence Nosegbe of Ogbe-Mmudein, Agbor,in  Ika South Local Government Area of Delta State.
Mrs. Eshalomi studied in Middlesex and Utrecht Universities and has been a member of the London Assembly for Lambeth and Southwark since 2016.