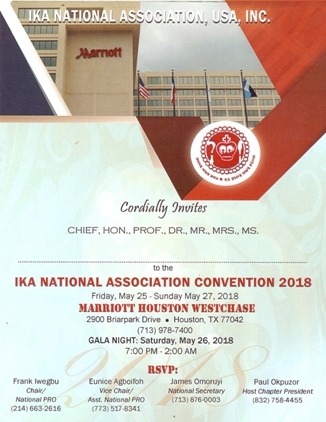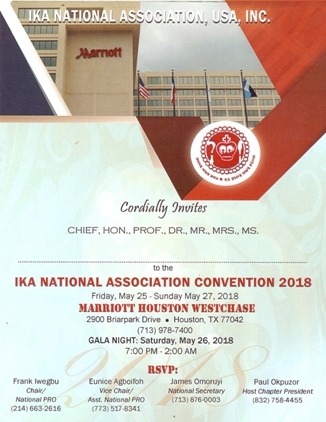 All is now set for the 2018 Convention of Ika National Association, USA, an association of Ika Sons and Daughters living in the United States of America.
The Biannual  Convention which has been described as Ika Christmas in the United States of America will take place at Marriott Houston, Westchase, Houston  Texas from the 25th  -27th of May 2018.
Information reaching Ika Weekly Newspaper, says that one of the major issues that is likely to be discussed at the Convention will be the Diagnostic Centre built and recently commissioned by the Association at the General Hospital Agbor. President of this year's host Chapter is Mr. Paul Okpuzor.
The PRO of the Association, Mr. Frank Iwegbu speaking to Ika Weekly Newspaper via telephone, disclosed that this year's convention promises to showcase the rich culture of Ika people as many Ika sons and daughters from all over America and Nigeria are expected to grace the convention.