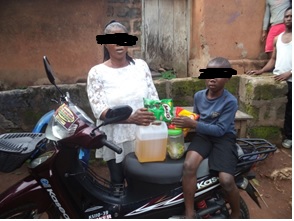 An almost chaotic atmosphere was witnessed on Wednesday, August 3, 2016 at the office of the Delta North Security Network, Baleke street, Agbor as a huge crowd gathered to catch a glimpse of a young woman, 36 alongside her 6 years old son who were apprehended for allegedly stealing a gallon of groundnut oil from an unsuspecting trader whose shop is located around Orubor street by Prof. Ebie Street, Agbor. It was gathered that the duo were in the habit of stealing food item from shops, their modus operandi being that while the mother  pretends to buy an item and involves the shop owner in a conversation over the price of the good, her little son would be busy picking any item he can lay his hands on and dropping it into his mother's market bag without  the notice of the shop owner.
They had successfully carried out this ungodly act till they met their waterloo on Wednesday. According to a statement by the Chairman of the security group, Mr. Friday Okoh, "the suspect who gave her name as Blessing and her son Lucky went into this particular shop and as usual succeeded in making away with a gallon of groundnut oil. "However, moments after they left the shop, the observant shop owner (name withheld) noticed that his gallon of groundnut oil was missing and immediately raised an alarm which attracted his neighbours and passerby. "It was while they were pursuing  the suspects  that I joined them and we finally caught up with them along Isedeh Street, Agbor."
He stated that they were immediately  apprehended after discovering the stolen groundnut oil and other items including a pack of Milo, a packet of Maggi cubes, some bars of soap and a pack of top tea. "We then took them to our office  at Baleke Street where we interrogated them and obtained confessionary statements from them. "It is quite disheartening to note that a mother could involve her six year old in a life of crime. She is a total shame to parenthood and only God knows what this little boy would turn out to be in future if he continues in this life of crime,' he lamented.
In a chat with the suspect, Blessing she stated that hunger and poverty pushed her into a life of crime. She also stated that she was married with 5 kids, but in recent times, got separated from her husband, whom she alleged is a Policeman serving in Warri. She also stated she lured her young son into stealing from shops, as no one would immediately suspect him of theft. "After each outing, I gather all our loot which we use at home and sell some others to raise money for food. Life's challenges made me go into crime in order to cater for myself and my children. "I used to sell second-hand clothes (okrika), but the business crashed and since then, I have engaged in this act of shoplifting with my son Lucky to make ends meet."
She stated that she highly regrets her actions and pleaded with the operatives of the Delta North Security Network to have mercy on her and forgive her. The little boy Lucky who was obviously shaken and scared of the crowd, corroborated his mother's story and pleaded for mercy.
The angry mob, especially the womenfolk chanted abusive words at the suspect, calling her a disgrace to motherhood. Some called for the application of jungle justice on her by stripping her naked and parading her around town, while others were busy taking snap shots of her on their mobile devices.
Subsequently, they we handed over to the police for further investigations into the matter.