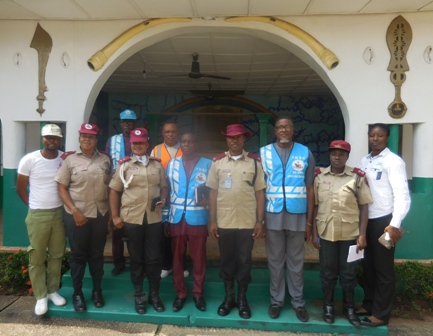 The Federal Road Safety Corps (FRSC), Agbor Unit Commander, Assistant Corps Commander Bitrus Yildung and his team visited the palace of Dein of Agbor Kingdom, His Royal Majesty Dein of Agbor, Keagborekwuzi Ikenchukwu on Wednesday June 14, 2018.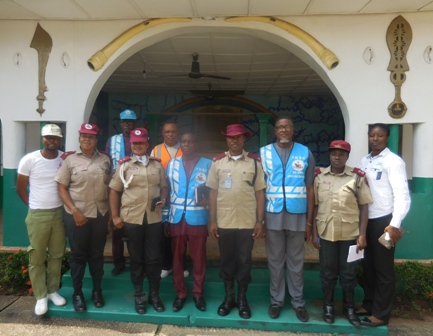 Speaking at the familiarization visit, the FRSC Unit Commander, Acc. Bitrus Yildung appreciated the Dein of Agbor for taking time to wait for their arrival, describing the visit as such that was destined by God. He further noted that their mission of coming to see the monarch is to collaborate with the Obi and the people of Agbor Kingdom.
Speaking further, the Commander stated that a few days after his arrival from Benue State where he was transferred to Agbor Unit Command, the first thing he noticed was the reckless driving of vehicles and riding of motorcycles by Ika residents. He therefore condemned the way and manner the Ika residents make use of the road with their vehicles and motorcycles and charged them to always be careful by following the traffic instructions.
He therefore appealed to Dein and Ika indigenes to provide them accommodation, noting that the building where they are currently occupying at Alihami Community is completely jam-packed. He said he would be the happiest person if more and better accommodations to be used as offices can be made available for them. The Commander passionately appealed to all well-to-do Ika indigenes both home and in diaspora and the government at all levels for the provision of patrol vehicles, stressing that one out of the two patrol vehicles they have is seriously bad. He therefore called on the indigenes of Ika nation and the government to come to their aid as the issue of accommodation and that of patrol vehicles are the major challenges they are facing in carrying out their daily duties.
He said that he has been able to book an appointment with churches, schools and other places where they can sensitize people on the danger of taking alcohol before making use of the road or making or receiving phone calls while driving, and other important things they should do whenever they are making use of the road to avoid accident.
Responding, the Dein of Agbor thanked the FRSC officers for all the efforts they have made so far to reduce road accidents in Ika land. He urged them not to relent in their efforts of sensitizing and educating the people of Ika nation.
Speaking further, the Monarch charged the Commander and his team to make sure that people are no more trading on roadsides, particularly along Agbor-Obi Market. He concluded by advising the Unit Commander to write a letter to the federal government in respect of the provision of patrol vehicles, adding that it is the federal government that is supposed to provide them with such resources, considering their role in the country.