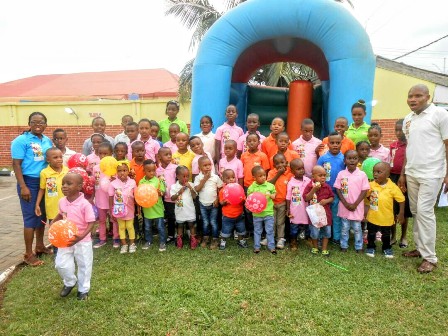 It was a great and joyous moment at Crunchies, number 205 Old Lagos-Asaba Road as the Crunchies Kiddies fan club met on the recently to celebrate the Children's Day with families and friends.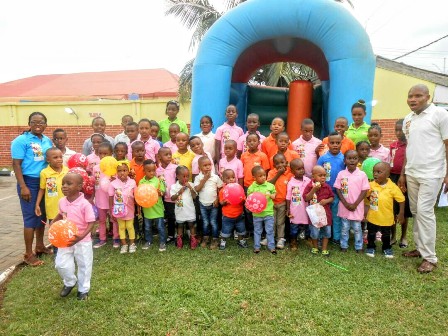 The event was a fun filled one, as several fun items were lined up to make the children happy. Mrs. Oke Nwakaego Heraldeen, in her welcome address, wished the children and all lovers of Crunchies a happy Children's Day celebration. Speaking further, she stated that Crunchies Kiddies Fan Club is an organization put in place to return their gratitude to their customers. In her statement, she said "we realized that children have more than fifty percent when it comes to Crunches lovers". Stating that Crunchies Kiddies Fan Club was then created to satisfy these children, she made it known that the year cannot be completed without inviting children to events like, Children's Day, Independence Day and Christmas Day celebrations. She therefore admonished parents to ensure that their children are made happy, noting that a family should be a healthy and have a happy home. She affirmed that Crunches is a nice place to be and finally urged parents to register their children in the Crunchies Kiddies Fan Club.
The Manager, Mr. Emmanuel Ugwadu in his own opening remark, noted that they are happy to host the kids, noting that Crunchies cannot be complete without the kids, stating that children are the bedrock of the society and family. He prayed for the childless women present, for God to give them (the childless mothers) babies of their own. He made it known that they decided to do the program on 26th of May, rather than on 27th which fell on Sunday, noting that lots of parents and children will be in church to celebrate the day. He also advised parents to register their children with the club, disclosing that they have subsequent events to be organized for the registered kids with other benefits attached.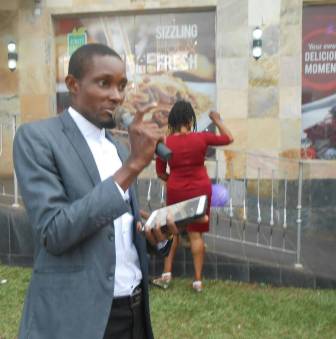 At the party, Mr. Andrew Kifodu, in his lecture on Nutrition, health and safety, admonished parents to eat and also give their children balanced diet, noting that food helps the body in performance. Further speaking, he stated that the right food helps children to grow and so, parents should aid them with good health. Continuing, he made it known that one is physically, mentally and socially fit only when healthy. The guest teacher said, when the right food is not eaten, the body will be sick as a result of Nutritional deficiencies with disease like Kwashiorkor. The teacher speaking on safety, urged children and parents to get a helmet while riding bikes. He further urged them to obey all safety rules. He advised parents to own fire extinguisher where they find themselves. He concluded by saying that when one eats good food, one lives a healthy life.
A toast was made for the celebrating children, wishing them long life and prosperity. The event which lasted about four hours had series of activities like drama, which taught that no matter how you enjoy your life, don't be easily influenced by the things of the world, for only God can give you what you ask for. Also, dancing competitions, act what you pick game; like pray, cough, laugh, bark like a dog e.t.c, among others were carried out. The event was spiced up by the great D.J Gadafi whose musical selection made the event awesome.
In a chat with the manager, Mr. Ugwadu Emmanuel, after the program , he stated that the program is organized annually to show children that they are loved especially the fan club members. Furthermore, he disclosed that other events will be coming up like the Independence Day celebration, also Christmas party, all for the fan club members. He noted that fan club members enjoy several benefits like free cakes and bicycle on their birthdays, Ice Creams or pop corn monthly and lots more. He therefore urged parents to make their children happy by registering them in the Crunchies Kiddies fan club.