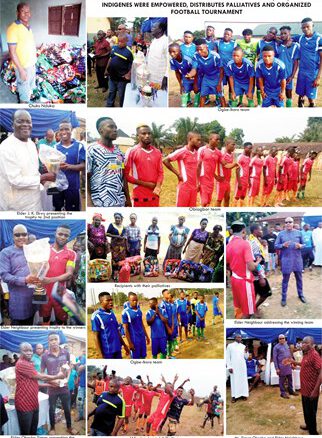 During the yuletide of December 2020, Ekuku Agbor Community Support Forum (ECSF), a nongovernmental organization empowered over 150 indigenes of the community through provision and distribution of palliatives to the less privileged. They organized football tournament for the youths of Ogbeagidi, Oroma, Ogbeikoro, Agbor Alidinma and Obi Agbor. The group (ECSF) which has the Chairperson as Mrs. Faith Akume Ekwu, comprises of Ekuku Agbor sons and daughters both at home and Diaspora. Other Stake holders of the group include Hon. Emmanuel Ojeme (Deputy), Engr. Sunday O. Nwachokor (Sec general), Pharm Okoh Isaiah (Project and Development), Elder Michael Enumah (Conflict Resolution) Elder Uche Osekpe, Mr. Desmond Chuba Ayogbe (Chairman Edu/skill Acquisition and Youth Development among other stake holders and members.
Mrs. Faith Akume, Chairlady who was represented by his deputy Hon. Emmanuel Ojeme said the group's annual event is part of measures to propagate love, unity and provide poverty alleviation among the vulnerable ones in Ekuku Agbor in Ika South Local Government Area of Delta State.
Continuing she said the event is a gesture of give sense to belonging to the needy in the community. She called on well meaning and well to do individuals of Ekuku-Agbor to join the group to help bring development to Ekuku-Agbor community. Speaking further, she said the major aim of the group is to economically empower Ekuku-Agbor youths through vocational training and skill acquisition and provide them with starter packs on graduation, to enable them   become economically independent.
She used the opportunity to thank the Delta State Government and the Governor, Ifeanyi Okowa for the provision of some infrastructures for the community e.g. Schools buildings, Health Centers Equipments, appointments among others.
In swift reactions, on behalf of other beneficiaries Mr. Ugbebor Ndidi, Madam Onyeibe Vero, Mrs. Janet Onwubuya expressed joy with unquantifiable prayers, blessings and thanks to the donors for their kind gesture and prayed to God for the peaceful existence of the union and continuation of the yearly programs.
Some of the youths (football team) who participated in the tournament went home with enthusiasm, amid dancing and jubilation, Obiagbor team which came first went home with the first prize by thrashing Oroma team 3 – 0 at the final stage. Oroma team came out 2nd while Ogbeikoro team came 3rd. One of the coaches, Engr. Goodluck Obiagbor thanked ECSF for their efforts, in bringing unity to Ekuku-Agbor by organizing football tournament for the youths. The tournament which was declared open by Solomon Ezehamosi Ezeriohaye I, the Uboh of Ekuku-Agbor, followed by his Council of Chiefs, thanked the group for their effort in alleviating poverty in his domain and prayed for them for sustainability.
In another development, the Uboh of Ekuku-Agbor, Ezehamosi used the opportunity to thank Pharm Isaiah Okoh for his developmental stride in Ekuku-Agbor example of this is the ongoing gigantic hotels, and houses, project lights along the whole Streets of Ekuku-Agbor. He also, commended the efforts of those who visited home during the tournament with palliatives, the likes of Hon. Emmanuel Ojeme, Comr. Michael Enumah, Elder Osekpe Uche and Comr. Ayogbe Chuba. Desmond who was contacting him (Uboh) through phone calls during the period. He extended his seasonal greetings to all his sons and daughters both home and in Diaspora and prayed God to bless all.