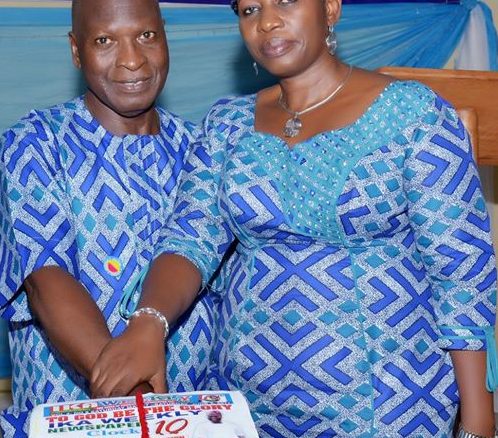 AN ADDRESS BY MR. STEVE EKIRI-MEKIRIUWA ASHIEN, THE PUBLISHER/CEO, IKA WEEKLY NEWSPAPER, AT THE 10TH ANNIVERSARY/AWARD CEREMONY OF IKA WEEKLY NEWSPAPER ON MAY 27, 2017 AT THE STATE SCHOOL OF NURSING HALL, AGBOR.
It is with joy and honour that I welcome you all to this epoch-making event of the Tenth Anniversary and Award Ceremony of IKA WEEKLY NEWSPAPER; that is the celebration of the coming to birth of the paper of the people, by the people and for the people and the number one community paper in Ika nation. This event is also the celebration of Ika sons and daughters who have contributed immensely to the development of Ika nation. I am humbled, honored, and grateful to see all of you present here today.
It is in appreciation of God's wonderful mercies and faithfulness upon our Publishing House that we have decided to celebrate this landmark, as we have no doubt that IKA WEEKLY NEWSPAPER has greatly contributed and is still contributing to bridging information gap through the delivery of comprehensive and unbiased news of happenings in Ika land and beyond; putting the Ika nation on the global map.
In the last couple of weeks, we have visited top government functionaries, Ika Royal Fathers, Orphanages, carried out Road Show to celebrate a decade of God's unique and unequalled faithfulness, as well as our focus, determination and our commitment to bridging the information gap among the people of Ika nation both at home and in the Diaspora. To the glory of God, today event mark the climax of these month-long activities.
We cannot say for sure how we got into the print media, or how we came thus far; neither do we think we have extraordinary persons in our establishment nor do we remember ever thinking for a second, minute, an hour or a day that it is solely our expertise or intellect that has kept IKA WEEKLY NEWSPAPER on the newsstand all these years.
All we know and have believed over the years is that God has been our pillar, our stronghold and the essence of our existence not only to us as an organization but also as individuals. To Him alone we give all glory, praise, honour and adoration for giving us the ability to keep breaking even and having our heads above the waters, which we all know has not been favourable to many Small and Medium Enterprises (SME), in this part of the world in particular, in recent times
So far, so good, we believe that our journey has been a beautiful and inspiring one, but not without challenges in the form of avalanche of court cases, intimidation and several threats from people who are apathetical to the truth. However, our relentless effort and our perpetual sighting of the silver lining on the horizon, believing the sky is our limit has kept motivating us to forge ahead. Indeed, God has been our righteous guide, director and comforter.
As it is said in the popular parlance; when you see the glory; ask for the story. Ours has been the story of courage, focus, tenacity and persistence in the face of daunting challenges and serious threats, sometimes overwhelming. The story of IKA WEEKLY NEWSPAPER is an affirmation to the fact that the attitude of courage, hardwork and integrity pays, and that there is an advantage in every disadvantage and appointment in every disappointment.
Over the years, one of IKA WEEKLY NEWSPAPER main focus and driving force has beento ensure the unity of the Ika people through our weekly publications, as we strongly believe and know that we are a people with a common destiny.
Notably, we certainly could not have come this far without the immense contributions of the past and present staff of IKA WEEKLY NEWSPAPER, the patronage of our past and present marketers, our valued readers and our business associates. There are also many of you in this hall today who have made indelible contributions in my life, in the life of IKA WEEKLY NEWSPAPER and in the society. You deserve much of the credit for all our progress and we cannot thank you enough for joining us to build IKA WEEKLY NEWSPAPER. We appreciate your commitment in helping us make a difference in Ika nation.
I am indeed humbled and honored to see all of you present today to celebrate with us. We will keep doing the best we can to maintain and uphold the dignity and promotion of the rich cultural heritage of Ika nation.
As long as God permits us, we shall remain committed to being a catalyst for a better Ika society, we are deeply encouraged by the presence of all of you as we prepare for the challenges ahead. Let it be known that we are not just here to celebrate the glory of IKAWEEKLY NEWSPAPER, but also the glory of Ika land.
In respect of the IKA WEEKLY NEWSPAPER DISTINGUISHED PERSONALITY OF THE YEAR AWARD; it cannot be denied that since the creation of the nation of Nigeria, the sons and daughters of Ika ethnic nationalities have never been found wanting in almost all areas of human endeavor, as Ika people have continued to contribute their quota to local, national and international development acknowledged by many people of non-Ika extraction. IKAWEEKLY NEWSPAPER, for ten years of bridging the information gap has observed the positive effects the time tested contributions of men and women of great repute in our communities have had on the community and people of Ika.
It is against this backdrop, we have put in place a platform to celebrate, in the true sense of the word, and to honour some of these distinguished Ika persons who keep toiling day and night to make great names for themselves and for Ika people.
The platform of IKA WEEKLY NEWSPAPER DISTINGUISHED PERSONALITIES OF THE YEAR AWARD has kept identifying these great achievers through impartial choice by Ika people via emails and text messages to a designated numbers detailing things they consider those nominated individuals have done to impact Ika communities and beyond.
Before now, there were no award ceremonies for the past awardees. However, in
Commemoration of our tenth anniversary, we had to organize this award ceremony and we hope to make it an annual event, God helping us.
The awardees for 2015 IKA WEEKLY NEWSPAPER DISTINGUISHED PERSONALITY OF THE YEAR, Mr. Sebastine Okoh and Chief (Dr.) Edwin Kalikwu have been graciously added to the 2016 Personalities of the Year.
It is therefore with great pleasure that I present to you the awardees for the 2016 IKA WEEKLY NEWSPAPER DISTINGUISHED PERSONALITY OF THE YEAR AWARD as follows; the Executive Governor of Delta State, Senator Dr. Ifeanyi Arthur Okowa, Hon. (Barr.) Victor Nwokolo, Hon. Festus Chukwuyem Okoh, Hon. Anthony Elekeokwuri, Barr. Eugene Uzum, Dr. (Mrs.) Isioma Okobah, Chief Edwin Kalikwu Ph.D, Mr. Paul Odili, Chief Nkenchor Okwuokenye, Ineh of Owa Kingdom, Mr. Chris Mbulu and Mr. Sebastine Okoh.
In addition to IKAWEEKLY NEWSPAPER DISTINGUISHED PERSONALITY AWARD and as part of our tenth year anniversary, we have decided to acknowledge and appreciate men and women who in their own individual ways have been sources of support and strength in our success story. These are; Chief (Mrs.) H. A. Ajuebon-Egbarin (JP++), Mr. A. J. Monye, Chief Elder John Ehikwe, Mrs. P. E. Uduh, Barr. Ifeanyi Aghaolor, Sir John Okenebirhie and Mr. Mike Ebie.
We are also using this opportunity to appreciate our past Editors for their immense contributions to the growth of IKA WEEKLY NEWSPAPER.
And to our awardees we hope that this award will spur you all our awardees to continue to contribute even more to the development of Ika land. We say congratulations to you all, as we wish you the very best in your entire endeavour.
Above all, we are grateful to God, who has been and remains our source of strength and inspiration.
Once again, thank you all for honouring us with your highly esteemed presence and I pray that the gracious presence of God remain with you all as travel back to your respective abode.
God bless IKA WEEKLY NEWSPAPER,
God bless Ika Nation,
God bless Delta State
God bless Nigeria.
Thank you.