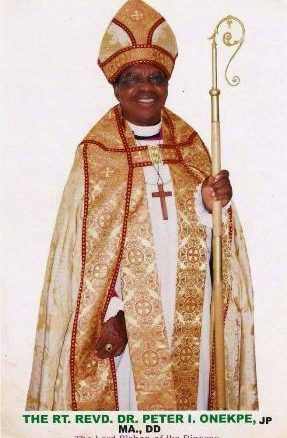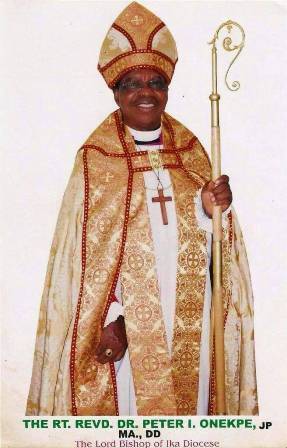 My lord Bishop of Ika Diocese, Church of Nigerian Anglican Communion, Rt. Rev. Dr. Peter Imhona Onekpe (JP) is the Bishop supervising Ika Diocese, comprising Ika South and North-East Local Government Areas; part of Orhionmwon Local Government Area of Edo State and part of Aniocha South Local Government Area of Delta State.
Please, my lord can we know a bit of your childhood?
I was born into a Christian family at Irekpai, Etsako West Local Government Area of Edo State. I was born on February 15, 1949 into the family of Mr.  & Mrs. James Onekpe of Uwasabi quarters, Etsako West Local Government Area of Edo State.
What was your father's occupation?
My father's occupation was farming.
What was your mother's occupation?
My mother was a farmer as well.
Can you tell us a little about your childhood?
I was born into a polygamous family of two wives with many children. Unfortunately, my father and all his wives have died.
How many children were born to the marriage?
My father had seven boys, some are alive, and others have died, while three women are alive.
What position are you in the family?
Amongst the male children, I am the fourth.
How about your primary school education?
I attended St. Peter's Anglican School, Irekpai from 1955-1960.
What about your Secondary School Education?
I also attended St. Peter's Anglican Secondary Modern School, Jattu-Uzairue, from 1961-1963.
After graduation what did you do next?
After graduation I went to learn work. I later left there for Catechist Training School at Akure, and graduated in 1967.
In those days you don't work in the church with lower grades except you were trained. I spent three years at Akure Vinny Christian Leadership Centre. After which I served as a catechist and later proceeded to Immanuel College of Theology, Ibadan for an ordination course from 1972 to 1974.
Was that how you came into the ministry?
Yes, I was ordained thereafter in 1975.
How long have you been a priest?
I became a priest in 1975, including the years as a diocesan, all are 20 years as a priest.
What are some of the challenges you have encountered?
As a priest, you are expected to be called. In other words, it is not the salary or remuneration you get. So, if you are called you devote yourself to the calling, and as a human being you need to put body and soul together. The church provides minimal comfort. They hope on the church members to take care of the workers in the church. These are the challenges we face and since we are married, we have to train our children; hence we depend on God for wisdom. If you have many children you need to be able to train them.
Are you married and what is your wife's name?
Yes, I am married. Her name is Dame Mercy Yetunde Onekpe (nee Olorunfemi).
How many children do you have?
We have four children; the last one got married recently.
As the Pioneer Bishop of Ika Dioceses what are your remarkable experiences and achievements?
It is very difficult to do pioneering job. When I came here on September 14, 2001, there was no Bishop's Court or Cathedral; St. John Church was designated then as a temporary cathedral. Thus, when Ika Diocese was created, and I was to be the pioneer bishop. I was initially in Benin before I was called to start this new diocese. The main difficulty of starting something new for example is where we were seated earlier on in this premises, was bushy then. Everything you see here came between then and now. We had to muster some money to do it. We are building a cathedral now in Ika Grammar School. All the buildings, Women Centre at Abraka Road, Boji Boji Owa started then, the administrative building and others started at the inauguration of the diocese, hence they have taken some time to build from the scratch. With the good co-operation of the people, we have been able to get to where we are.
Talking of the building at Ika Grammar School which is near completion. Is there any assurance that it would be completed before the year runs out?
By God's grace and intervention, it is likely.
Sir: are you a member of the Christian Association of Nigeria (CAN)?
Yes, I was the Chairman, Christian Council of Nigeria which is one of the five arms of Christian Association of Nigeria for six (6) years, after which another bishop took over.
Sir, is it in Ika Chapter?
No, it was for the whole State. I have left. You can't continue forever. Bishop Oyibo is now the Chairman. He would soon leave for another person to enter. Once a CAN member, always a CAN member. So, you are consulted in any decision to be taken affecting Christianity.
My lord, for some time now, we have not heard anything from the Christian Association of Nigeria about the killings of Christians in some parts of Northern Nigeria and the menace of Fulani Herdsmen, what is your view on this?
CAN is talking and talking loudly and if you read the papers daily, you would see what the Missionary Chairman of CAN is saying. After Ayo Oritsejafor, it is Adekunle, a Yoruba man, and a Baptist who is in charge now. He has condemned the killings, especially killing of those Christian girls whom they refused to release. If you read the papers daily, you would see that prayers and fasting have been organized within and outside the country. We can't take gun and fight. We can only pray and wait for the result of the prayer. All the people, including individual churches in the Southern and Northern parts of the country agree that the killings are devilish. Previously, we also organized churches to fast and pray because nothing is impossible for God. Right now, the issue of whether the Federal Government would return the President for a second time is looming high in our discussions. We all feel he has not tried. You know as Christians, we control people and I know you all are Christians. So, you must have heard sermons in your churches. But we don't control the media. The media carry the one they want to carry, but our people can't say they have not heard anything or our own version of these killings, not only of Christians but they also kill people in the Mosques. The killings are all ploys to Islamize the country, but the Christians are not keeping quiet.
Looking at the Church today, the sermons have gone towards prosperity instead of righteousness, what is your opinion on this assertion?
It is true that the younger generation churches which are privately owned do all they can to raise money. You give N10, 000 worth of blessings but we can't use that to condemn other churches like Catholic and Anglican which are not privately owned. You know anything that is privately owned as churches would only talk of owning jets, cars etc.  Even when he gets old, he would not be required to relinquish them because there is no constitution holding him. For example, I have been able to do this for the Ika Diocese. None of the property is my own, so there is no need talking of prosperity and be-clouding true gospel. I am not going to carry the wealth and even if I do, won't I die? So there is a mission for the church to preach salvation to get people to repent. Yet we need money. Though some privately owned churches are condemned for prosperity gospel, the condemnation does not affect all the churches because I still know of some churches where the gospel is not based on prosperity. Yes, there is prosperity. If you pray to God, he would bless you, but it does not mean whoever has the money has got it all. I know what you say is generalization which does not apply.
Some new generation churches would demand one to sow seed of #10,000 and get #1 million. Do you think that it is encouraging laziness?
If the person is lazy, how did he get the #10,000 in the first place, so laziness does not apply, but gluttony and trying to get more. Thus I am not sure it is encouraging laziness because the people who sow must have something to sow, so they advise you to sow more. Therefore, I am not sure that the problem  is laziness, rather, it is gluttony on the part of leaders, who just want to take more for themselves.
Sir, What Legacy do you want to leave behind?
We have what we call Vision and Mission Statements which are five in number. They are at the back of every pamphlet we publish. Example, in the area of planting churches, people would say that churches so planted that were new or have long been in existence since the past 17 or 18 years have come up with many functional priests, so if you ask what I want to leave behind, a God fearing Diocese not a Diocese that quarrels over nothing and does not respect their leaders. I also want to leave behind, God fearing priests who are not leading for the sake of money alone, but also for the sake of the kingdom of God, training people for heaven.
I also want to see successful marriages through marriage counselling& seminar for husband and wives working in Christian homes. I want to see our schools (Ika Grammar School, Mary and Martha Igbodo) waxing strong. I want to see more of the training the children of our future to start a Primary School of our own, for us to catch the children young.
I want to leave behind all that is good; I remember that the society is not all good. I want to see our youths running away from evil and cultism and encourage the youth of our churches not to join bad gangs, instead they should learn to be hardworking. I want to see a government that encourages the youths. Some of our youths are in Okowa's empowerment Programme, want to see them ready to work and established. I think with these, the country would be a better place.
As a person or a Bishop, do you have any regrets in life?
No, I don't have any regret in my line of profession. The only regret we have is on the part of society because one thought things would be getting better, but it is not so, whether we blame it on the government or the parents upbringing. For example, now we hear that someone came to attack a house, raped women, etc, never have we heard it before now: people attack villages and cut off people's heads. You wish the world could just end, but God is not tired of the world when you know you are not God and that you are just a messenger of God you say "Thy Kingdom Come, thy will be done on earth as it is in heaven" so you satisfy yourself with that, because crime is more hence you ask yourself , why are you preaching? But, I ask myself what if we don't preach at all? So those are the regrets for the society but for me personally, since I came to the ministry I have no regrets, I only pray to leave behind a good record.
As the Bishop of Ika Diocese, do you have any favourite church, priest or parish?
My favourite priest is the one who is doing his work very well and if you are not doing the work very well then you know that the Bishop does not like your own attitude. My favourite church is the one willing to co-operate and encourage growth. If they connive and don't follow the rules they are not my favourite, same thing with parish. Thus, anybody who is working very well is my favourite.
What do you think is the role of churches in governance at all levels?
The role is to produce the individuals, for example Okowa was the Local Government Chairman, then Commissioner when I made him a Knight. He was not yet the governor back then. So, producing a good Christian individual can help in producing a government that is good. I have the right to go to him and say this is wrong and being a Christian, he will listen to me. I won't want him to make the Bishop a Commissioner. That does not make the government a Christian government or a well run government. So if the church can produce good Christian men that even if you dip them in money they would not be corrupt, then that is its role, to prepare people to serve people to the Will of God. So, if a Councillor is doing very well and you find he is a Christian and that is why he is doing very well, then the church is gaining ground. But if he is not doing very well and he is a Christian, then the church has failed. So it is our duty to prepare a person who runs the government. Theocracy is the government where the church is ruling. Bishop Marcarus in Cyprus, the church is the government, and it failed because in every 12, you find a Judas. So I believe the role of the church is to prepare people, so if you say that Okowa is doing well because he is a Christian you can say the church is doing well, so we should also produce more principals of schools, civil servants because most of these people belong to the church so if the church can do this, it is playing a good role in governance at grassroots.
Is it advisable for clergy men to go into politics?
No, if you are a clergy man and you want to join a political party or want to hold a political office. O.K regard it you that you have resigned so when you fail, they won't blame the church because you are likely to be corrupted. It happened in Benue at a time when a Rev. Father became the governor. The Catholics said "put down your license, go and be a governor since you feel you are called to be a governor". But the new generation church does not see it as anything, saying somebody can be a clergy and a politician at the same time. So don't look at it from the perspective of the new generation churches because they are very different from the Catholic, Anglican and Methodist Priests. If you want to, they won't say you should not. However they will say you should put down your license because you cannot be leading a congregation at the same time, because in your congregation, there would be a PDP member and member of APC. Politics, being party politics, if you don't belong to a party you cannot be elected.
What is your advice for your successor?
My word of advice is that he should try to imitate the good points of his predecessor and avoid his mistakes because as you are leading you defend the people. Even Moses, in his effort to lead his people, his brother and his sister formed an opposition against him. So by the time you have led a diocese (by December we would be in the 18th   year), definitely you would have made one mistake, not deliberate. So I would say avoid the mistakes of your predecessor and follow the path of success and build on it.
Sir, of all the Dioceses you have served in, which of them stands out?
Ika stands out. I did not serve very long in Benin; I served for only 5 years. They had one type of attitude that made it very difficult to serve. They saw me as a stranger and wanted a person from their region to serve them. Even though Ika is smaller than and not as rich as Benin, Ika stands out for me, because Ika is where I spent 18 years and in Benin, I did not do much.
I was called to be a priest and now bishop. If my child makes a u-turn and gets ordained to be a priest, I can't force it on him. If he says he wants to be a priest I would ask him how he knows if he was called, I would really interview him and if he feels he is called, so be it, He has his own life to live not my own.
Sir, if you were to decide, who would you like to succeed you as the next Bishop of Ika Diocese?
          I would like a very good priest. A person who has worked successfully here and there, that is the kind of priest I would like. One thing for which I am lucky is that for the past 18 years, I have worked with people, sons of Ika land, some I sent to the seminary and they are now arch deacons, and if this one is doing well and that one is doing well it is very wrong to say 'A' is this one I am pointing to be the one I want. Your own is to say GOD since I myself was not hear, and today I have worked 18 years in this place even if there are 10 and one is outstanding whom the choice of GOD would be, all I tell them now; "look even if you feel you are better than the other person and  it is him that GOD chooses, please co-operate with him and remember that it is not a personal business, I have done 18 years now and am going , I will not take anything, I am required to leave behind, "soldier come soldier go, barrack remains".
What is your advice to the Anglican Communion and the church in general?
          I would say that church leaders should not emphasize on materialism and they should also not run after people in position like the governor .You see some of them dancing around him because of what they would get. You can hardly find me in Governor's Okowa`s office.  I told you I made him a Knight. He was my member and he respects me more because I am not among those who go there every time and he would say "my lord what are you looking for" and I would say "I just want to pray for you", then he would look for something to give you and the next month you go again. Apart from when he was newly elected we organized and went to pray for him. If he wants me he can call me and we can always discuss  so I think I would advise the church leaders that by the time you start begging them, then you are showing that you are in they pay roll and it won't last forever because  someone in government today may not be in government tomorrow.  That would be my advice to church leaders in general. If church leaders behave well the people in power would behave better.
Then for the Anglican church I would advise them to maintain their Anglican identity, what I mean is that the Anglican worker should know that he is just a worker in the church and that his position is "solider come solider go, barrack remains" so if they transfer you, don't team up with the natives that you don't want to go because you are not the owner of the church and when you retire, you are going to leave the place. What can I do now that I am almost 70 years old? Would I not leave hear?
So you should work like you are only an ambassador and you would leave there if you notice that it is the nature of the call. Not like a place where you build the headquarters, your wife would takeover, your  child would takeover and you begin to make announcement that GOD has revealed to you that your son is going to lead; so let us maintain our Anglican identity which is missionary. Most of the churches leaving that missionary identity get so mingled that you don't see the difference between them and the world. Also, Christian leaders should not run after authority that they see us as those who come because of what they get. It happened in the bible with the false prophets saying "go and conquer" while the prophet telling the truth was hated by the king. Some leaders want somebody to prophesy to them every day and they would give them something, they would give them something in return eventually they would not respect you. That's my advice to church leaders in general. Let us respect our calling and for the Anglican priest; let us maintain our identity. Whether you like it or not, you would go either by age or by appointment, soon your members start saying, "This old man  nor dey retire, unlike those who have churches nobody  would dare say that to them. You would send the person out if he dares say it because you can decide now that your wife would takeover, if you are not well.
Sir, what is your assessment of the Primate, His Grace, Most Reverend Nicholas Dikenriehi Okoh's administration?
          Assessment! I am too small to assess him. He is the one to assess me because what I am doing is small scale in Ika diocese; he is doing it in a bigger scale in the whole church of Nigeria. His own is that he controls dioceses and still has his own diocese in Abuja.  No Bishop is a Bishop without a diocese, except that Abuja Diocese is the headquarters for all the dioceses in the Nigeria, so he is both the Arch Bishop of Abuja and the Primate of Nigeria.  It is a very big office, so he needs lots of prayers. In Ika nation, we have over seventy churches, so he has his own diocese and also has all of us. If there is trouble in Ika now or in Sapele, for example, they don't want the bishop, the primate would be troubled and would run to Sapele to solve the problem. So he needs prayers and the wisdom of GOD to succeed in it.
Do you at any point wish to attain the position of a primate?
          Who does not wish to become the highest, but the more that is committed to you the more that is required of you so he hardly has the time to rest with his family so we have to really pray for him. When he calls a meeting for all of us, he is our primate. We have about 162 Dioceses in Nigeria so you can see it is not easy.
Do you have a role model in which you have patterned your life after?
          Jesus Christ is my role model.
Out of all the awards you have received so far, which of them stands out for you?
          Two awards which I received recently, I don't know if it is because I am retiring. I came from Ibadan on Sunday; the University of Ibadan Alumni decided to celebrate 60 years of alumni. I think the University of Ibadan is about 70 years old now so they asked  all the chapters of their alumni to recommend  one person each, incidentally since I came to Ika, the only society or union that is not church oriented that I attend  is the University of Ibadan. When they were told to recommend someone, they demanded that the person must be a General in the army or a Bishop and only one person was asked to be recommended from each unit. They checked my name and discovered I have been a member of our alumni upwards to 17 years, so they gave me the award as an "Ambassador of the University of Ibadan". They gave me a plaque I cherish that award because the primate was also called. About 67 of us were given awards, three of which are Bishops; the Primate, I and one Bishop in Enugu North Diocese, so I think that award is the one I cherish most.
The second one which was also recent was from Immanuel College of Theology. The school was founded in 1958. This year, it would be 60 years and they have trained over half a million clergy men both from Baptist and the Anglican Communion. They were about to celebrate their 60th year so they took record of all those who have become Bishops among them, about 50 of us have become Bishops. So, they wrote to us that the alumni wants to honor us, I felt very small because when I went to Immanuel College to train in 1972, I was one of those from 'Oyokoko' the area of those who don't hear Yoruba, so you are not very popular. They gave us plaque, but it is not just the plaque that I cherish most, but the honor that among the 500,000 people they have trained as priests, more than 50 became Bishops and I am one of them. This made the awards outstanding for me. So many other awards also, like this one which is from Etsako Diocese, that one which is from Vinny, which I told you I went for Catechist Training in Vinny Akure. I am the first person who went to that training who has became a Bishop so they gave me this plaque. The other one is from Scripture Union, in which I was their patron in the whole of Delta State. But the one from Emmanuel College made me shed tears, because when I entered the college, I was nobody. To be called as one of the 50, is by God's grace because some have died. I did not think that an academic community like the University of Ibadan would ever call me because I did not teach or become a professor, but the alumni came out in this way, about this way, about the 60 something out of the alumni associations of the university all over the country should choose one person each, so our own alumni said that, since they said they needed a Bishop category or General in the army who is active in the alumni association and they chose me. They sent my name, if you go through facebook, you would see how much of it they have been saying. So for me, these two are my most outstanding awards.
What would you fall back to after your retirement?
          The Diocese is doing a lot like I said in the new generation churches you don't retire the money is your own. Unlike in the Anglican Communion, they pay you salary so there is a way they work your pension depending on the strength of the diocese. They can build you a house, a car for you, etc, if you have a house to stay, 4 children whom are already working, so, it is unwise to think you can gain the whole world. What you need now is to start living like Jesus, a humble life. So I feel I would be cared for either from those I have helped, the Diocese or my children, and if I die after retirement, they would be the ones to take care of my burial because I retired from there. What do I need to save much money for? What do I need it for? From the year I joined the priesthood to this year is 51 years, I was ordained 1975, so after 53 years of priesthood, why would you want to go and start building estate? You have preached the kingdom of GOD all your life so after 70; you can just live a life of prayer for the rest of your life.
My Lord it is here we draw the curtain with thanks and say we have taken much of your of time. We are grateful
Thank you my media practitioners. Send my greetings to your publisher.