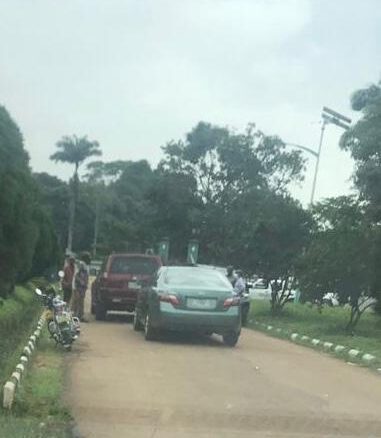 Police and DSS has sealed the Agbor Royal Palace to prevent the Dein of Agbor Kingdom from carrying out a planned conferment of chieftaincy titles today, 28th June 2020, and prevent the breakdown of law and order.
According to Ikaworld sources, the Governor of Delta State and the DSS had advised the Dein of Agbor to shelve the chieftaincy conferment ceremony due to Delta State's COVID-19 rules on gatherings as well as part of a truce reached by the Dein and stakeholders of Agbor kingdom.
It is public knowledge that the relationship between the Dein of Agbor and key stakeholders in Agbor kingdom has been rocky for years. Freezing of the planned chieftaincy title confinement was one of the agreements reached between the stakeholders and the Dein with a peace committee setup to find a lasting solution to the problems. The issue of the conferment of titles became even more sensitive as it was suspected that one of the candidates is a controversial woman that has been in the centre of Agbor palace intrigue.
Interestingly, the DSS had invited all the chieftancy candidates to warn them against the ceremony. The governor of Delta State was also advised the Dein against, but Ikaworld could not confirm this as at press time.
Apparently, not trusting the Dein of Agbor to comply with the state's directive in spite of all mediations, the DSS and the police mobilised officers to seal off Agbor Royal Palace restricting access into and from the palace.
As at press time, the palace was still sealed.