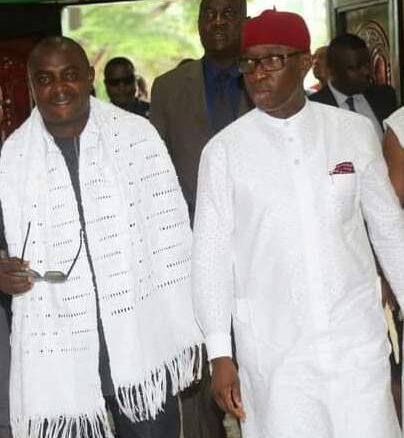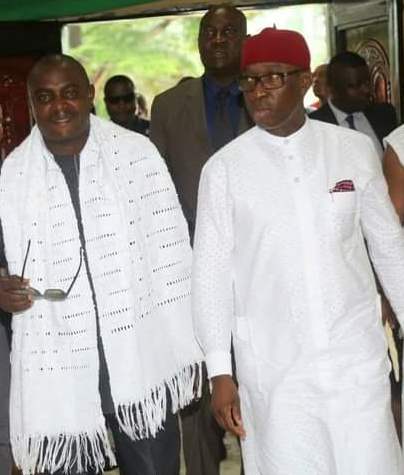 The Executive Chairman, Ika North East Local Government Area Council, Hon. Barr. Victor Ebonka, on Wednesday January 6, 2021, successfully completes his three-year tenure in office.
In his valedictory speech, Hon. Ebonka stated that his success in office was achieved as result of team work. He thanked his deputy, Hon. Mrs. Corlina Anazie for her maturity, dedication and loyalty.
According to him, "I stand tall to say that I have a deputy who cooperated with me without any misunderstanding. The Head of Personnel Management, Obianke, is a professional to the core and I want to appreciate him for all his advice that brought us this far.
"Also, to the Treasurer of the Local Government (TLG), I call him a Chartered Accountant with a difference because his advice on financial projection has helped us so much.
"To the Local Government Secretary, Mr. Samuel Egbule, he is a professional and very dedicated to duty. I will not fail to thank and extol my Supervisory Councilors for Environment, Lucky Efeizomor, for Finance, Lucky Nduka, for Health, Uche Ujor, and for Education, Iroro for their wonderful representation.
"The executive officials, DA and Internal Auditors have all done very well. Our success story is due to your cooperation", he said.
Continuing, Hon. Ebonka gave thanks to God for giving him the inspiration to make a difference as a Council Chairman in his LGA and Delta State.
He added, "I make bold to say that my representation was full of innovations to bring development to our people. It is on record that I was the first council chairman in the State that introduced the Public-Private Partnership (PPP) in development. The PPP has paid off such that other local government council chairmen borrowed the idea from me.
"The major legacy I have was the Memorandum of Understanding (MOU) I entered with the PPP (Graceland Channels Limited) which is presently constructing a new ultra-modern market for the people.
"The project which commenced few months ago is at an appreciable level. Over two hundred lock up shops are on completion. I understand that the painting of the building is ongoing. Prior to this time, the project site constituted environmental hazard which took us so much pain to address. Today, the story is different with an edifying market building. Boji-BojiOwa major garage is one of my administration's major projects.
"By the grace of God, if I am reelected for a second tenure, the Ebu-Owa temporary market for food item sellers will be looked into for the construction of another befitting market. I thank God that Owa-Alizomor modern market construction is completed and commissioned for use. Our interest on markets has put a stop to street trading which caused refuse everywhere and blocked drains.
"I also make bold to say that my LG will stand tall to be the best LG in area of infrastructural development. With my leadership, Ika North East now ranks the neatest LGA in Delta State. Through PPP arrangement, collection of refuse was a huge success as against indiscriminate dumping of refuse everywhere".
He used the platform to announce to members of the public that the Delta State Government has now made permanent the service of qualified youths who were employed as environmental marshals.
While soliciting for continuous support for his reelection, the outgoing council boss appealed to those he may have offended in the course of discharge of duty to forgive him, saying that his actions were not intentional.
Beaming with smile, Hon. Mrs. Corlina Anazie during a chat with journalists said she does not regret working with her boss, Hon. Ebonka, saying that she gained a lot working with him, most importantly in the area of showing commitment, dedication and leadership. While the council SSG, Mr. Egbule described Ebonka as workaholic chairman who believes that success is a function of hard work.