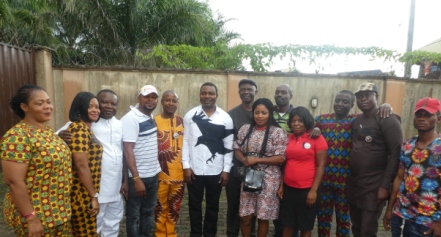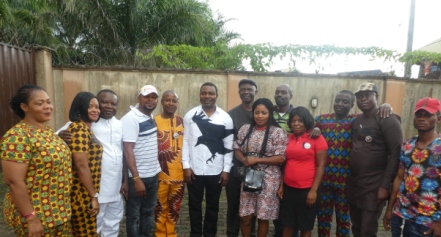 Members of a political pressure group from Ika South Local Government Area of Delta State, under the aegis of "Action Group for Human Rights", were at the Boji-Boji, Owa residence of Hon. Victor Nwokolo, on Tuesday, August 21, 2018 to pledge their unalloyed support to the honourable.
On hand to receive members of the group during the visit, were Hon. Victor Nwokolo and Hon. Tony Elekeokwuri, member, Delta State House of Assembly, Ika North East Constituency.
In his remark, Mr. Ndidi Mgbejume, the Chairman of the group informed Hon. Nwokolo that they were at his residence to pledge their total support and readiness to work effectively with him in actualizing his third term ambition to the green chambers in Abuja. Continuing, he apologized to Hon. Nwokolo for having rebelled against his political ambition in the past and stated that he and members of the group have now realized that they were doing a wrong thing, hence they have now decided to work with the winning team, knowing that Hon. Victor Nwokolo is the man that can represent Ika Federal Constituency effectively at the Federal House of Representative in Abuja, based on his track records and achievements.
Speaking further, he stated that in order for the federal law maker to be convinced that the three thousand members of the group are now fully with him, they decided to bring along, some of the materials and banners which they had initially used to campaign against him, saying that they brought the materials in order to burn them in the presence of the honourable member. Mr. Mgbejume used the opportunity to advise electorate in Ika Land to endeavour to vote for the Peoples Democratic Party (PDP) in all the elective positions in 2019 general election, emphasizing that PDP is the moving train that will surely move Delta State forward, having His Excellency Senator Dr. Ifeanyi Okowa, as the pilot.
In a brief speech, Hon. Tony Elekeokwuri informed members of the group that the focus of everyone now is how Ika nation can be totally developed, hence, "when we have this in our minds, then we will see to its actualizing, saying that the greatest thing that has happened to Ika nation is having the state governor.
He urged all to do everything to support the second term bid of the governor, so that rapid development can come to Ika Land. He stated that it is now time for Ika people to agree with one voice, warning that if we get it wrong this time, "it means that we are not going to get it right again."
Speaking further, the state lawmaker, informed the group that Ika Land is one, and said, "I am pleading that having agreed to work together, it will not be good that both of us will decide to go to the bush for hunting and when we get to the bush, you will tell me that my leg is like that of an antelope". He assured members of the group that they will not regret their decision in coming to support and work with Hon. Nwokolo.
Responding, Hon. Victor Nwokolo who was full of smiles, said he is delighted with their visit and decision to support him in achieving his political ambition. He urged them to intensify their efforts in wooing more supporters for PDP in all the nooks and crannies of Ika Land, in order for the Peoples Democratic Party (PDP) to be victorious in all the elective positions at the 2019 election, emphasizing that the second term ambition of the governor must be realized.
High point of the visit was the burning of materials and banners, which were formerly used by the group to work against Hon. Nwokolo.