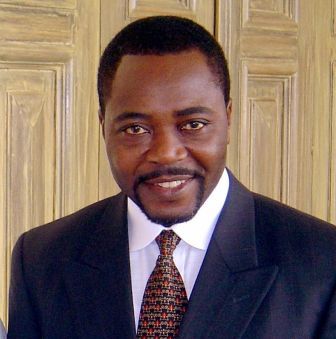 NAALT Honors Professor Chukuka Enwemeka, PhD
with the Endre Mester, MD Photobiomodulation Lifetime Achievement Award
Recognizing enduring service and innovation in cutting-edge medical therapy
 The North American Association of Photobiomodulation Therapy (NAALT) honored Professor Chukuka S. Enwemeka at its Annual Scientific Conference in Detroit on August 18, 2018, as the driving force behind growing excitement and enthusiasm for this cutting-edge medical therapy. As a result of Professor Enwemeka's enthusiasm and enduring service, photobiomodulation therapy continues to experience rapid progress in clinical research as well as the manufacturing of new photobiomodulation devices.
Citation
Professor Enwemeka is one of the foremost authorities in the use of lasers and monochromatic light for therapeutic medical purposes. His significant contributions to the science of photobiomodulation as a researcher, teacher and clinical consultant are evidenced by his numerous publications, journal editorial board leadership, and academic and research leadership positions.
Professor Enwemeka served as Co-Editor-in-Chief of Photomedicine and Laser Surgery for ten years (2004 to 2014), Editor-in-Chief of Laser Therapy (1999 to 2004), and North America Regional Editor of Laser Therapy (July 1991 to April 1999). Moreover, he served as President of the World Association for Laser Therapy (WALT) from 1998 – 2000, and as Founder and Pioneer Chairman of the North American Association of Laser Therapy (NAALT) from 1998 – 2006.
In 1991, Professor Enwemeka was listed among Who Is Who in Science and Engineering in recognition of his pioneering work, which demonstrated for the first time that red and near-infrared light emitted by lasers and monochromatic LEDs promote collagen polymerization and alignment. In other groundbreaking research work, Professor Enwemeka and his team pioneered the use of certain wavelengths of blue LED to kill the deadly Methicillin resistant staphylococcus aureus (MRSA). He has authored more than 100 original research papers, monographs, a book as well as book chapters, and has secured millions of dollars in grant funding.
Professor Enwemeka began his training at the University of Ibadan with completion of his Bachelor's Degree in 1978. He then attended the University of Southern California where he completed his Master's Degree in 1983.  Following a vigorous academic program, Professor Enwemeka received his PhD in 1985 at New York University. He is a Fellow of both the American College of Sports Medicine and the American Society for Laser Medicine and Surgery.
Professor Enwemeka is currently a full professor in the College of Health and Human Services at San Diego State University. He joined the university in July 2014 and served as Provost and Senior Vice President for Academic Affairs. In May 2018, he resigned as Provost to devote full-time attention to his research studies, including the completion of several research projects designed to advance our understanding of photobiomodulation and its effects on skin and pathogens.
During Professor Enwemeka's service as Chief Academic Officer of San Diego State University, he achieved significant recognition for his signature Student Success initiatives, which elevated student graduation and retention rates to record levels and enabled more students to complete their four-year degree programs earlier. He has been credited with upholding rigorous academic standards, advancing the university's research and scholarship programs, modernizing research and academic infrastructure, exceeding fund-raising targets, supporting the arts, and promoting international student engagement—including the successful establishment and implementation of the university's Engineering and Science degree programs in Tbilisi, Georgia.
Before joining San Diego State University, Professor Enwemeka served for five years as Distinguished Professor and Dean of the College of Health Service Sciences at the University of Wisconsin, Milwaukee (August 2009 – June 2014). He also served as Professor and Dean of the School of Health Professions, New York Institute of Technology, Old Westbury, New York (March 2003 – July 2009).
Professor Enwemeka's tremendous academic experience also includes service as Professor and Chairman at the University of Kansas Medical Center, and tenure-track faculty positions at the University of Miami School of Medicine and University of Texas Health Science Center at San Antonio.
His international academic and professional engagements, including visiting professorships, invited lectures, conference presentations and leadership of funded research projects, have taken him to 39 countries on five continents. Moreover, Professor Enwemeka has worked with dozens of colleagues to develop new academic programs, including formal degree programs, in Abu Dhabi, Bahrain, Brazil, Georgia, Japan and Jordan. In addition, he has served as an academic program reviewer, international advisor and consultant for universities and government agencies in Australia, Hong Kong, and South Africa.
About The Endre Mester, MD Photobiomodulation Lifetime Achievement Award
The award is named after Dr. Endre Mester (1903 – 1984), a Hungarian physician and a pioneer of laser medicine. Born in Budapest, Endre Mester studied medicine at the University of Pecs, Hungary until 1927.  He then taught surgery at the Pazmany Peter University in Budapest while working with Dr. Lajos Adam.  He was certified both in surgery and radiology, and worked as a surgeon at St. John's Hospital and in the "Rock Hospital" located in the tunnels underneath the Castle Hill in Budapest during WWII. He chaired the surgery department of the Bajcsy Zsilinszky teaching hospital in Budapest from 1947 – 1963. He then became Professor and Department Chairman at the Semmelweis Medical University, where he worked until his retirement in 1973.  He was honored with the Doctor of Sciences title from the Hungarian Academy of Science in 1971.
Professor Mester started his research evaluating the effects of low doses of laser light on skin in 1965, only a few years after the first working laser was invented. He performed some of the earliest scientific experiments examining the biological effects of laser irradiation. Publication of his works began to emerge as early as 1967.  Consequently, he is credited with the discovery of the therapeutic effect of low power laser therapy. He authored over 100 published articles in the field and founded the first Laser Research Center at Semmelweis in 1974, where he worked during the rest of his life.
The NAALT 2018 Board of Directors and Scientific Committee congratulates Professor Enwemeka for his tremendous academic and research accomplishments in photobiomodulation therapy.
Terrance L. Baker, MD, MS, FAAEP – President NAALT 2018
2018 NAALT Scientific Committee
Jeri-Anne Lyons, PhD
Nicholas Wise, DC
Chris Castel, PhD
Sandeep Gopalakrishnan, PhD