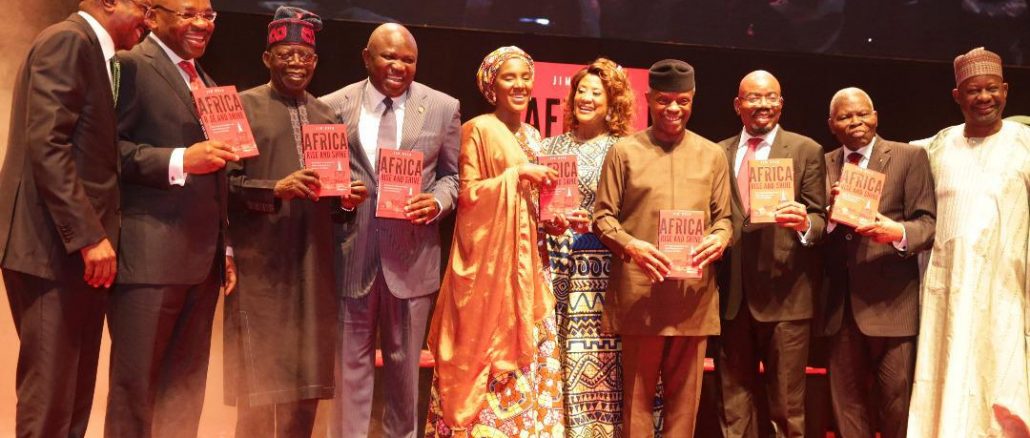 President Muhammadu Buhari on Monday commended the founder and Chairman of Zenith Bank, Jim Ovia, for his contributions to entrepreneurship in Nigeria.
Buhari gave the commendation in a message at the public presentation and launch of Mr Ovia's book "Africa Arise and Shine" in Lagos.
He said Mr Ovia had contributed so much to inspiring entrepreneurs, particularly the Nigerian youths.
"It is my pleasure to convey my congratulations to you on the publication of the book 'Africa rise and shine,' which you authored.
"I commend you in this contribution to the knowledge base of Nigeria's entrepreneurs, particularly the Nigerian youth.
"Your journey in building one of our country's most iconic enterprise is an encouragement to our fellow citizens. Congratulations on this achievement," Mr Buhari wrote.
The Vice President, Yemi Osinbajo, in his speech said that successful people in the country owed the society three taxes.
Mr Osinbajo described the three as personal income and corporate tax, social and civic tax.
He, however, said Mr Ovia was not one of such people as he was a law abiding citizen who discharged his obligations in tax payments.
The vice president also lauded Mr Ovia's philanthropic gestures, particularly his investment in education where he said Obi's impressed him by his many feats
The Governor of Central Bank of Nigeria (CBN), Mr Godwin Emefiele, said that Mr Ovia possessed many qualities which all ought to be emulated by professionals.
According to him, in the book, Mr Ovia shares important words of wisdom drawn from his more than 38-year experience as a trail blazer in Nigeria's banking sector and his experience in the telecommunications and insurance sectors.
"The book conveys an inspirational message on universal principles that are applicable in every country which can serve as a guide to millions of young Nigerians on how to succeed.
"These principles are devotion to knowledge, commitment to excellence and courage to dare where many feared.
"As you will find in the book, these factors were instrumental in enabling him to build a US$16 billion conglomerate from barely N203 million at start-up of this empire.
"For those of us who know him and have worked under him, Jim Ovia is a stickler for knowledge and is deeply committed to excellence."
Mr Emefiele said those were important principles that should guide local and foreign investors in their approach to the Nigerian and African markets.
He said that the key success factors for investors should be clear understanding of the potential of the market, leveraging technology and innovation in providing superior products and services to a market of about 200 million people, in the case of Nigeria.
"If these principles are followed like Mr Jim Ovia has done in Nigeria as well as in other parts of the world, you can expect to receive huge rewards for your efforts.
The Lagos State Governor, Akinwunmi Ambode, highlighted the contributions of Mr Ovia to the accountancy and banking professions in Nigeria.
Mr Ambode called on leading entrepreneurs in Africa to take time to expose the younger generations to their inspiring stories with a view to showing them how to become successful business owners.
He said it was important for successful entrepreneurs like the author of the book to tell the story of how they were able to navigate the business climate to inspire others who looked forward to be like them.
He commended the author for taking out time to write the book, saying Mr Ovia's contributions to the banking and accountancy professions could not be downplayed.
"Obviously, the truth is there is no person that has actually gone through the profession of accountancy that would not have had something to do with Jim Ovia," Mr Ambode said.
The author said internet was changing the world which had enabled people to do online transactions, online sales, online education and everything.
He said that an economy driven by technology would always blossom.
"So, for us to blossom the Nigerian economy, lets start to digitise the economy. if we digitise the economy, it will continue to grow.
"If we use technology to drive our manufacturing process, our agriculture and healthcare, we will know what that will do for us".
Mr Ovia said that what inspired him to write the book was the need to change the narrative of African continent.
"The narrative of Africa has been something so pathetic.
"When you Google about Africa then, the first things that come out is that it is a continent of complex, a continent of corruption and of coups.
"That was played out very dramatically when The Economist magazine had on their front page that Africa then was a continent of coup and a continent of corruption.
"But after two decades, that narrative started changing. Today, we now know that Africa is truly rising," he said.
Mr Ovia said that African countries had recorded GDP per capita of above 1,000 dollars, whereas about 20 years ago, it was below 500 dollars.
"So, for me, Africa is rising. Twenty years ago, only few African countries had mobile phones, but today, all the African countries, not only have mobile phones, they also have broadband technology and internet penetration is high.
"Africa is rising by embracing technology.
"Amazon is now over $1 trillion. This Amazon doesn't have a factory anywhere.
"They don't have any oil well at all, but has over $1 trillion in market capitalisation and richer than Nigeria and twice the GDP of Nigeria.
"It is because they embraced technology and the internet," he said.
The News Agency of Nigeria (NAN) reports that the book is essentially about the story of how Mr Ovia commenced his business in the 1980s and now worth 16 billion dollars.
Dignitaries at the event included Governors Emmanuel Udom (Akwa Ibom), Darius Ishaku (Taraba), Ifeanyi Okowa (Delta), Rotimi Akeredolu (Ondo), Ibrahim Shettima (Borno), Ibrahim Dankwambo (Gombe), Kayode Fayemi (Ekiti Governor-elect).
They also included the National Leader of All Progressives Congress (APC), Bola Tinubu, National Chairman of the party, Adams Oshiomhole, Segun Osoba Christopher Kolade, Emeka Anyaoku, Akintola Williams, Tony Elumelu, Folorunso Alakija, Aigboje Aig-Imoukhuede and Oba of Lagos, Rilwan Akiolu I. (NAN)